Author's Update Jun 16, 2022: Sorry for everyone's loss.
Terra is one of the most hotly trending and promising crypto projects around right now. As Bitcoin and other volatile cryptocurrencies are continuing to fluctuate wildly in value, some investors are now jumping on the Terra bandwagon in order to diversify their portfolio.
Terra money is a DeFi fintech payment network that uses fiat-pegged stablecoins (backed by Luna cryptocurrency) to allow for programmable payment and financial development.
Overseen by Terraform Labs, the Terra crypto project has gained widespread popularity over recent years. Through the Terra team, top investors such as LightSpeed Venture Partners, Arrington Capital, and Pantera have agreed to commit $150 million to help expand various projects related to the promising cryptocurrency.
Terra Labs and their partners have developed an application running on the company's blockchain tech to permanently record the firm's crypto financial transactions.
Official wallets can be downloaded at https://www.terra.money/.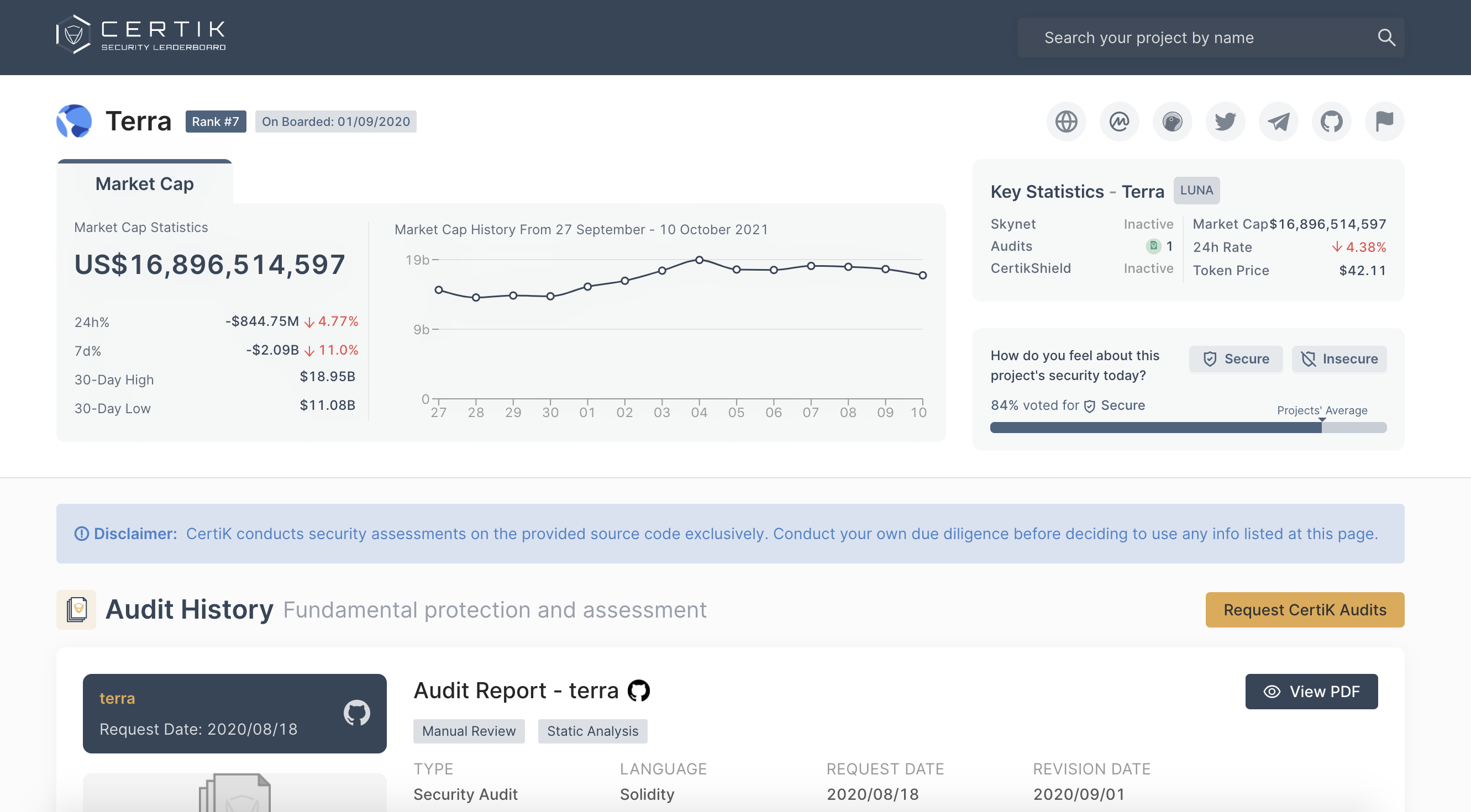 If you're interested in Terra Airdrops, you might want to read about our tools for (diversified) trading of DeFi tokens
What is the Terra Stablecoin
The Terra stablecoin, like most stablecoins, has been designed to manage the volatility problem of regular cryptos such as Bitcoin.
IOU Stablecoins like Tether (USDT), are pegged to traditional fiat currencies such as the U.S. Dollars through cash and are backed by a cash equivalent.
In the case of Terra stablecoin, the backing is done via the Luna alt coin.
To create new Terra Money (UST stablecoin tokens), the developers burn a percentage of another digital token called Luna. When the demand for UST goes up, more Luna tokens are automatically burned and channeled to a community pool; this balancing strategy helps stabilize the value of Terra to a certain degree.
Accordingly, Luna directly varies with the economic growth rate of the Terra ecosystem, as explained by Terra CEO, Kwon.
Anytime a user buys something with UST, transaction fees are applied in a similar way to debit card and credit card transactions. These fees are distributed among people who hold Luna tokens like stock dividends.
How to Claim Terra Airdrops
We will first list the two most convenient ways to be eligible for an airdrop and then list the ways in which airdropped money is distributed.
This is a long-running airdrop campaign.
Loop market
If you join Loop Market, you stand the chance to benefit from airdrops on Terra.
Apart from cryptocurrency airdrops, Terraform Labs operates several projects including the Anchor app, which provides a high-yield savings account for alt coin holders of the group's digital currencies.
There are more yield options to choose from though - the Terra group currently has 50 projects in the pipeline.
Orion Money and Terra Airdrops
Orion Money forms another part of Terra's ecosystem.
It introduces an easy way for users to gain stable yields from Anchor Protocol and other stablecoin chains.
While Orion Money traces its origins to Terra's ecosystem, its central target lies beyond the scope of Terra. Orion aims to leverage the power of Terra's platform and channel its energy on the ETH network to ensure a smooth energy flow between Terra and other systems out there.
Airdrops on Terra will be distributed in the following way:
Luna stakers: a fraction of genesis airdrops will be shared between all Luna stakers according to their stakes with some caps

Orion delegators: a separate share of genesis airdrop will be given to all delegators who stake their Luna with Orion validators during the time the initial snapshot is taken.
In addition to that, delegators who keep staking their Luna with the Orion validators will receive monthly airdrops for one year.
Terra hopes that its airdrops will serve as good rewards to Luna stakers and Orion validator delegators for their maximum support shown to the project.