Key Points / VPVR
In trading jargon, VPVR indicator means volume profile visible range.

VPVR is a charting indicator used in volume trading.

Volume trading is a popular trading technique among cryptocurrency traders.

Tools for VPVR: #tradingview #cryptowatch
What is VPVR?
VPVR is short for volume profile visible range. It is a technical indicator used for volume trading, which is a popular trading style among the traders of large-cap cryptocurrencies.
The VPVR indicator plots a histogram over one side of the chart. The histogram maps the price levels with the highest traded volumes in your currently visible range of the price action. Hence the name: Volume profile visible range.
The original VPVR is available for a fee on TradingView, but there are paired down community VPVR scripts available too - keep reading for those. Cryptowatch provides the original VPVR for free.
In this glossary we'll cover
Go on here for an in-depth look at strategies for VPVR trading (bullish, bearish, and what you can automate).
Best platforms to trade on VPVR indicator
Here are the three charting platforms that offer VPVR indicator, but don't click away if you want to trade directly from a chart with VPVR.
So, crypto trading platforms like FTX or Binance do not implement VPVR in their charts.
The reason for that is the amount of data that VPVR uses to render. If everyone started trading on it, it would bite into the exchange's technical performance.
That's why is not possible to trade on VPVR directly on your exchange, even if the exchange uses TradingView charts.
But since Cryptowatch provides VPVR and you can trade directly from Cryptowatch, trading through Cryptowatch is a workaround for trading directly.
Cryptowatch will let you trade on VPVR at Binance, Kraken, FTX, Bitfinex or Coinbase.
VPVR Binance trading Setup
Here's how to set up your VPVR trading on Binance through Cryptowatch, but the steps are really the same for FTX, Kraken or Bitfinex too:
In your Binance account, generate API keys with trading enabled
On Cryptowatch, go to your account settings
Go to exchange keys
Find Binance and insert the API keys you generated
Trade on Binance via Cryptowatch - here's how to load the VPVR indicator into your cryptowatch charts)
Profit
How to get VPVR for free on Tradingview (volume profile visible range & fixed range)
VPVR is marketed as a PRO tool. It is not that volume trading is more difficult than other trading styles, it is just that volume profiles need granular market data - loads of it. If you want granular data like VPVR, your charting platform will want you to pay for it. Compare VPVR with the basic volume TA tools like OBV.
They are all averaged-out, statistical data - the opposite of VPVR.
However, the TradingView public library always delivers…somewhat.
Free VPVR alternative on TradingView
There is one good free volume profile indicator on TradingView that is close to the real VPVR. It paints the volume histogram over last 100 candles of your chart and highlights the top volume areas.
This is hands down the best free volume profile indicator as of now.
I have tested a couple more free volume profile indicators from TradingView. Read this ScriptSpotlight if you are interested. If you just want to try VPVR trading on a charting platform you already use, then just go for "Poor Man's Volume Profile".
If nothing else, it is certainly good enough to find out if you like working with VPVR or not.
Trading the VPVR Indicator? (Basics)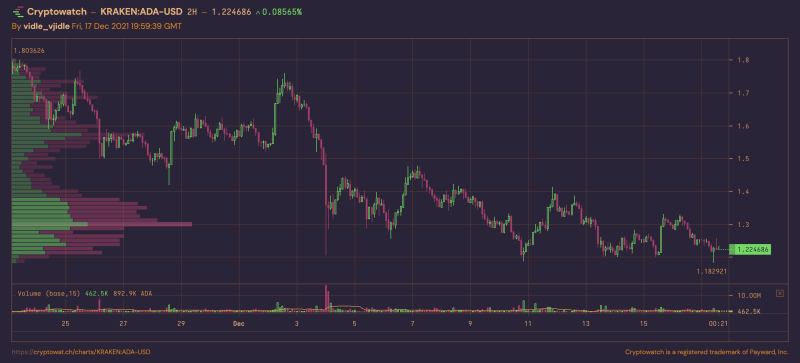 This is what VPVR looks like.
Reading VPVR boils down to two things:
Finding the gaps. If price didn't stay somewhere for very long, than that area might have been covered in an irrational speculative run.
Finding the price with the highest traded volume. This brings you close to identifying areas of supply and demand, and therefore your support and resistance.
Be careful, though: VPVR lets you roll back through the market history. Depending on where you stop, you might get a very misleading picture. In a recent ScriptSpotlight on volume trading this is explained with screenshots.
Tips for trading on volume profile ranges
Give VPVR time to load. It really uses loads of data, it might take a minute to show up.
Volume profile fixed range is both easier to find for free and easier to use.
Daily volume profiles are the easiest to interpret (if your standard timeframe is 4H or less)
Indicators to use together with VPVR
Volume profile is often used as a complement to other methods of technical analysis.
Tools for VPVR Trading in Crypto
An indepth look at VPVR is here.
---
---