This is a list of free or freemium tools and apps that are useful for cryptocurrency traders or hodlers.
None of these tools were backed by an ICO, which has been the original condition for getting a tool listed on here. Some of them are open source, some commercial, but all of them have at least a trial account option.
If you are a developer and want to submit a tool, contact us.
In this article we cover:
Tools for Traders
Tools for Hodlers and Investors
Portfolio tracking
NOTE: The popular Blockfolio app was hacked in 2021. There are plenty Blockfolio alternatives but for safety, use a single-serving email address when you sign up.
CoinMarketMan is a crypto portfolio tracker for daytraders. It has an auto-journaling functionality for active traders, which saves a lot of time compared to a trading journal in Excel.
How to use CoinMarketMan as Crypto Trading Journal Software
CoinMarketMan pulls data from your trading platform via read-only API.
The app supports all the big crypto derivatives platforms (FTX, Deribit, ByBit, BitMEX) and then spot markets from Binance and Coinbase PRO.
How to set up the automated trade tracking:
Generate API keys on your exchange. Don't forget to set the API to read-only!
Copy-paste your API keys into your CoinMarketMan account.
Start the import of all your trading data with one click.
That's all.
The trading journal app will read your open positions (including stop-losses) as well as your trade history and work out the PnL for you.
You can annotate your positions both with random text notes and structured tags. The tags can be used to build reports with statistics - such as how much you trade on emotion vs with confidence in your trading setup.
For tax reporting, just export the log in CSV. You get all your profits in losses from all exchanges in a single file.
How to get CoinMarketMan Enterprise for FREE (worth 49.99 USD/mth)
The fully automated trading journal is a paid feature and CoinMarketMan is not cheap.
But there is an easy way to get the top tier plan for free: Sign up at an exchange through CoinMarketMan's shill links.
You have Deribit, Bybit or FTX to choose from. Once your API keys are in CoinMarketMan, your plan updates automatically to Enterprise and stays there forever.
There is no other requirement tied to the offer, such as minimum traded volume or the like. Just sign up and you're done.
Shrimpy is a crypto trading bot platform that, in its free version, works as a portfolio tracking tool.
Shrimpy platform is designed for the automation of long-term investing strategies.It supports a range of time-tested portfolio management strategies such as rebalancing, dollar-cost averaging (DCA), and portfolio-wide stop-losses.
If you just want to monitor your stack's fiat value manually, sign up for Shrimpy's free plan and you're good.
Coinloop (Blockfolio alternative for active traders)
Coinloop is a portfolio tracking app catered towards more active traders. In addition to the usual news feed and an event calendar it also features AI signals with optional alerts. It also tracks the CME and CBOE Bitcoin futures.
Moonitor (Blockfolio alternative for desktop/iOS)
Moonitor is a desktop and iOS app developed by a Redditor u/kumakote.
It is continually improved and the design of the UI is much nicer than you'd expect in crypto.
Delta (Blockfolio alternative for crypto and legacy traders)
Delta is quite a popular app, even though less so in the crypto community. It is powered by eToro, so you won't quite get the privacy features you might be used to from crypto space.
Delta is available from Android and iOS.
CoinStats (Desktop tracker for active crypto traders)
Coinstats looks quite like CoinMarketCap except it also reads your exchange's API and tracks your portfolio balance. Coinstats report profit and loss as well, great for active traders.
The tracker is available for desktop.
The most popular app for portfolio tracking, which was hacked in February 2021. Blockfolio does not hold cryptocurrency, but the hack still exposed its users' data to spammers and phishers well known by Ledger wallet owners.
Crypto Trading Bots
We have a 101 guide on how to start bot trading crypto. There are platforms that will let you automate strategies without any coding required. You can also automate a DCA strategy. The bot guide here.
Coinrule bot lets you automate TA-based strategies with no coding knowledge required. The interface is user friendly and intuitive.
No coding required to write your trading strategy
No coding needed even to backtest your trading strategy
Supports DCA
Supports technical analysis strategies
Coinrule is free for traded volumes below 3K USD per month. It's good enough to test it, for after that get your 25% off with this link. Paid plans start at 29.9 USD per month, depending on your volume and number of active strategies.
There are seasonal deals, subscribe to our weekly deals newsletter to hear about them.
More about Coinrule's products:
Coinrule supports bot trading on big exchanges like Binance, Bitstamp, Kraken, Bitfinex, OKEx and more.
The company is based in London and has been around since 2016, but stayed under the radar due to the noise generated by the ICO bubble.
They did use that time to build their product as well as an extensive knowledge base. If nothing else, check at least that.
Get 25% Off Coinrule   More on how to start bot trading crypto
Shrimpy is an automated crypto trading bot designed for long-term investing strategies.
The platform supports a range of time-tested portfolio management strategies such as rebalancing, dollar-cost averaging (DCA), and portfolio-wide stop-losses.
You can set up a custom strategy or go for social trading and copy strategies from the top traders on the Shrimpy platform.
Shrimpy requires Python coding but has a dev community on Telegram and a vast knowledge base
Supports DCA
Supports technical analysis strategies
Supports portfolio rebalancing
Supports social trading
The FREE Shrimpy plan only includes portfolio monitoring. PRO plans with strategy automation and trading bots start at $13/month.
Market Screener
Market screeners are full-stack tools for market analysis. Screeners report not only the price action of an asset, but also its news coverage and sometimes even public (but hard to find) information like insider trades that have to be filled with the SEC.
In crypto we are used to single-purpose niche tools but as legacy traders adopt crypto, the more resourceful legacy market screening tools do so as well.
FinViz is the most complete free market screener for stock, forex and crypto. Crypto is the latest addition to this 10+ year old trading tool, and crypto market screening is a bit subpar there, sadly.
You won't get as many features for crypto as you get for stocks on FinViz, such as the feed of institutional and insider transactions pulled directly from SEC forms. If you also trade legacy though, FinViz is hands down to richest free market data resource.
It pulls granular data from SEC fillings, it gives you all the news for each stock ticker, and it has basic TA alerts pre-programmed on the public website. These are really simple things like oversold/overbought, but they will still save you time.
FinViz Crypto is only good to get you a quick overview of the 15 top crypto markets and their relative performance of their USD markets. Once again, if you also trade forex and stocks, it's gonna get you much more use though.
TradingView provides a triplet of basic market screeners - stock screener, forex screener and crypto screener. These are all available in the free tier.
The information you get is much poorer than with FinViz screener above though. There is the basic chart, with an option to switch to the full-featured technical chart, then there are news but from a handful of sources only, and there is no insider trading or other hard to dig out data. The rest of the space in the screener chart are just community ideas.
TradingView Free Crypto Screener
Market Timing Tools
CCI30® is a market-cap weighted basket of top 30 cryptocurrencies. The index started tracking the top 30 coins in 2017, having added some past data. The oldest available data is from 1 Jan 2015.
The index excludes stablecoins, constituents are reviewed and adjusted automatically every first calendar day of each quarter.
Daily CSV data are available for free, realtime API for a fee.
How to use the index for market timing
Crypto20 was the first ever crypto basket index that got tokenized. These days the Crypto20 exists as one of many index products by a Cayman Islands company called INVICTUS.
Crypto20 (C20 in its tokenized form) is a market-cap weighted basket of top 20 cryptos. The C20 fund rebalances from current market cap values on a weekly basis and caps each asset at 10%.
For market timing and other analytical purposes, its main advantage over CCI30 is that being tokenized, it can be directly traded on HitBTC, Uniswap and other Ethereum DEXes. That makes its real-time data readily available for free.
Its disadvantage is that it caps each constituent at 10%, which is out of tune with the distribution of the value on crypto markets.
How to use the index for market timing
CryptoCompare created a price-weighted index of cryptocurrencies and made the data available from their API. Access to the API data is freemium - free accounts get capped at 250.000 lifetime request count.
The CCCAGG index uses volume-weighted methodology and was created for the purpose to show the best price estimation for crypto traders.
The index in its current version returns volume-weighted average price for a single coin of your choice, calculated from its markets on more than 250 exchanges.
CCCAGG is a great tool to get a price-weighted basket index of cryptocurrencies, which is really just an average price of the top X most expensive cryptos.
How to use the index for market timing
Staking Tools
We have a full 2021 guide into staking and what are your free and paid staking wallet options right now. Read here
The Exodus crypto wallet supports staking directly from the wallet for Algorand, Cosmos, Cardano, Ontology, NEO, Tezos, and VeChain. Your coins are locked up for a pre-defined time period. The staking app provides information on how the reward is delivered and wtherther you need to claim it.
Staking in Exodus is available in desktop version only.
You will need to install the wallet and get the Exodus "Rewards" staking app from inside the desktop wallet.
Bitfinex exchange stakes your PoS coins automatically. Currently supported currencies on Bitfinex staking are Tron, EOS, Tezos, Cosmos, Algorand, Cardano, Polkadot, Ethereum 2.
All you need to do is deposit to the exchange wallet. The yields are lower, but there is a reason for that. More details in our article about staking wallets and services here.
AllNodes is the largest staking provider on the market. It is both a masternode and staking service, primarily catering towards larger holders. However, there are staking pools that have very low limits of holdings necessary to participate.
Allnodes integrate seamlessly with Ledger and Trezor hardware wallets. Whether you want to stake in a pool, run a validator or host a masternode, with AllNodes you can be up and running within minutes.
Staking pools usually take a cut of your yield. Masternode and validator setup incurs hosting costs per month.
Lending, Savings account, Yields
In this section we are only reviewing lending on crypto exchanges, which at least does not give you the false sense of safety as crypto savings accounts do. You can still get good rates.
Bitfinex offers to all users, verified or no-KYC, the choice between two lending interfaces to manage their lending wallets.
The classic lending interface lets provide your money for margin funding by requesting a specific rate and time duration. (You can indeed also take funding there, and by that lock in a low rate while it's cheap before you enter a margin trade.)
The new Lending PRO takes some of the manual work away. It will split the content of your lending wallet into chunks and offer them at best rate possible, but never at a rate lower than a minimum you set.
In the dynamic mode, lending PRO will even periodically take down your unmatched orders and adjust their rate down to improve the chances that they will get matched.
Overall the rates for USD are high in a stable manner (around 10% APY), for crypto the yields are lower and volatility higher. That volatility can get you a very nice income in situations where the market is overleveraged and everyone is opening new margin positions.
Speaking of overleveraged environments, of the main benefits of lending in closed environment like exchanges with low leverage is the super low risk of you not getting paid your interest. In low leverage markets where the money never leaves the platform, the risk of default is lower than on obscure platforms like BlockFi. These also lend out your money to traders (albeit institutional) but the conditions and policies are unknown as that trading happens on different platforms.
Signup at Bitfinex Strategy writeup on Lending
FTX is still much smaller exchange, and one of the very few places where you can trade tokenized GME and other stocks. Lending of these tokens is available too, and as the market is small, the rates can shoot up quite a lot.
You will see though that even relatively big currencies like ETH and BNB can get pretty high rates.
How to lend your crypto on FTX.com:
After you sign up, you will need to go into your account settings and enable margin trading.
With margin enabled, move on to the mergin lending page here
Filter out the highest rates by clicking at the column name: "Estimated next funding rate"
Select your crypto and click LEND
Go to FTX lending More about FTX
CoinMarketCap Alternatives
Crypto Charting Apps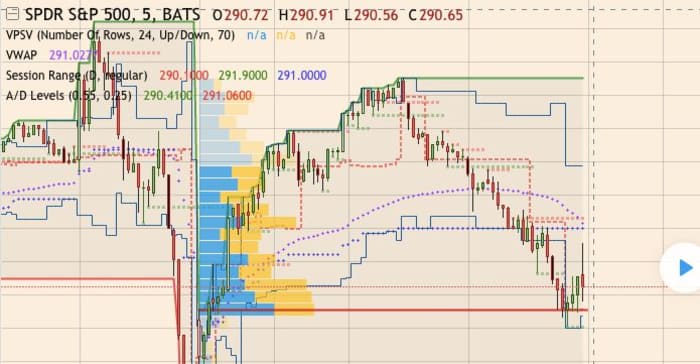 Some of these products have discount deals featured in *Eternal Black Friday*
CryptoWatch is the most popular free crypto charting software.
The charts are available in a desktop app or through the website, no need to sign up for an account.
There is no pine script library of user-created tools, but if you are just looking for the most common technical indicators on a candlesticks chart and possibly some alerts, cryptowatch is a fair option.
Cryptowatch gets regular upgrades and maintenance as is a very solid charting tool. Some of the newly added features include:
Trollbox at the side of the chart
Correlation matrix to analyse altcoin arbitrage opportunities
Unlimited price alerts
Trading directly from the chart via exchange API
CryptoWatch was acquired by Kraken Exchange in 2017. Since then you can access Kraken directly from there, but it's not pushed at you too much.
Cryptowatch is now a full Coinigy alternative, as the charting app now lets you trade directly from the chart on any exchange.
Coinigy is a cloud-based crypto trading and charting tool packed with features for altcoin scalpers, arbers and trading bot developers.
Coinigy is also great for the true altcoin traders who want to be the market makers in new markets, who want to leverage arb opportunities and want to be able to trade a market as soon as it opens.
It is not only a charting engine but also an API interface you can use to trade from an exchange account without using the exchange's web interface. UI and charting is usually terrible at small exchanges, at the same time those are the ones that you need to use when you arb.
Coinigy doesn't charge any additional fee for executing trades via the platform.
TensorCharts are an advanced crypto charting platform with orderbook heatmap and split-colored candles. This charting app is for dedicated crypto traders who are not afraid to spend some time learning.
Unique charting tools exclusive to TensorCharts:
orderbook heatmap
counters ratios
custom JS scripting
price action sound feature
TensorCharts is one of the best tools for scalping crypto.
If you want to learn using TensorCharts, head over to our TensorCharts intro and to our collection of TensorCharts tutorials.
There is a very generous FREE tier on TensorCharts. Start with TensorCharts For Free and if you like it, upgrade on Black Friday.
Tradingview is a charting platform and trading community that has huge amount of technical analysis tools available for free. They are written in pine scripts and fully customizable - the charting platform is super noob friendly too, though.
We reviewed some of the best TradingView scripts that you can use with FREE account here.
TradingView PRO will let you use more scripts in a single charts. The upgrade is not ultra cheap, but it gets regular 60% discount during Black Friday promos.
Sign up now for a free account and upgrade on the next Black Friday.
Coinpub - Collection of Spreadsheet Resources
Coinpub is a website that collects Google Spreadsheets and Excel functions built for crypto traders. It documents Bitfinex and Deribit MS Excel functions for traders who like to project their position goals in an Excel sheet before they open.
It also collects option builders originally from Deribit (the sheets are extended from the original though).
Crypto Trading Analysis Tools
Your analytic tools in crypto include orderbook monitoring, automated technical analysis screeners, lending open interest monitoring tools and futures premium tracking.
Tensorcharts is a charting app with orderbook heatmap and segmented candlesticks for crypto and legacy markets.
Obviously useful mostly for highly active traders, most of all scalpers and day traders.
TensorCharts are not free. There is a basic free plan that gives you the coloured candles, orderbook visualisation and basic data refresh (not fully realtime but good enough). You will not be able to view the full volume profile and access most functionalities that are data-intensive and therefore costly.
If you are not sure you are willing to pay for this stuff, you can piece together a poor man's tensorcharts alternative on TradingView.
Make a chart at TradingView FREE
Go to Indicators and script and search for "Poor man's volume profile", a free VPVR alternative. Apply it.
Next look up "[ST] Volume Flow v6" by spacetrader, which colors your candles based on changes in volume. It colours full candles as a whole, the data is less granular than footprint candles. But it's free.
Read more about TensorCharts or take a look at the strategy showcase for scalping crypto with Tensorcharts.
RSIHunter is a freemium service that calculates RSI values for you. RSI hunter has all the big cryptocurrency markets and will alert you on the key RSI levels automatically.
Pretty useful tool for large cap crypto traders who want to quickly get the macro outlook and see which smaller cap altcoins are being oversold or overbought - This kind of comparison is a technique used for market timing.
RSIHunter has free data from Binance, BitMEX, Kucoin and Bittrex.
A free chart from bitcoinfuturesinfo.com that plots Bitcoin futures curves and premiums of derivatives on BitMEX, Deribit, Bitfinex Futures, OKEx, Kraken Futures and other smaller crypto markets.
The website also only a few articles that explain what you can do with the data.
The Whale Watching App is an open-source Python code that tracks large unique orders or a stack of many same-size orders in exchange order books.
DataMish is a public Grafana dashboard with lending data from Bitfinex.
It also gives you data like shorts vs longs for main markets on finex. It is a successor of bfxdata.com, for those who remember.
TokenSpread is a tool for arbitrage traders. It monitors spreads on altcoin markets across every popular exchange (Binance, Bittrex, Bitstamp, Bitfinex, GDAX, EXMO…), highlighting the largest spreads.
TokenSpread also offers an API subscription for $40 per month.
Crypto Taxes
Some of these products have discount deals featured in *Eternal Black Friday*
This is a free guide to US cryptocurrency taxation from The Simple Dollar.
Crypto Trader Tax is a service that will generate your report from trading logs exported from the exchange you use for crypto trading.
The tool offers some advanced functionalities like loss harvesting by pulling your crypto's cost basis and deducting your loss to reduce your liability.
They bill per tax season based on the number of trades you executed, but they do offer a free trial.
[!] Use our coupon for 10% discount on Crypto Trader Tax: CRYPTOTAX10.
Large Transaction Alerts
Wallet Scan is a Telegram bot that alerts you on large transaction on Bitcoin blockchain, on Tether and on several other major blockchains now.
If it is known where the transaction went to or from, it will tell you that too - many of exchange hot wallets have known addresses now.
Crypto Fundamentals Tracking
Whalemap.io FREEMIUM - 30% off with code ALTCOINTRADING
Whalemap is a Bitcoin fundamentals charting and onchain analysis app. It has a free-forever tier that is good for starting with onchain analysis, but for active traders will prove too limited. Premium subscription starts at 9 USD/month, or less if you use code ALTCOINTRADING to get your 30% off.
Whalemap provides a quick explanation of every tool they have as well as a learning hub with detailed guides.
Whalemap free gives you access to basic onchain analysis.
Onchain Volumes: Volume of BTC moved on chain
Tracking of large transactions, tracking of large wallets
Volume profile 1D data for onchain BTC transactions
Hodl Waves: Percentages of transacted BTC by time passed since the coins were last moved
MPL: Onchain panic selling detection
SOPR: Are coins moved mostly to cover a loss or take a profit?
The premium versions of Whalemap give you the same data with the option to filter out the whale portion of the onchain stats.
Free onchain volume profile will give you the volume transacted at today's price levels in total
Premium onchain volume profile will add the option to filter out transactions that went to wallets with over 1,000 BTC
If you like volume trading and work a lot on the BTCUSD market, comparing the total volume profile with the whale volume profile will give you good data for your analysis.
[!] Get 30% off any plan with promo ALTCOINTRADING at whalemap.io
Fork.lol tracks global pow hashrate on bitcoin blockchain.
A simple website that scans SEC documents and reports the amounts of BTC disclosed by public US companies.
Bitgur focuses on market cap and similar traditional performance indicators presented in the visual form of a heatmap.
Blockchain Network stats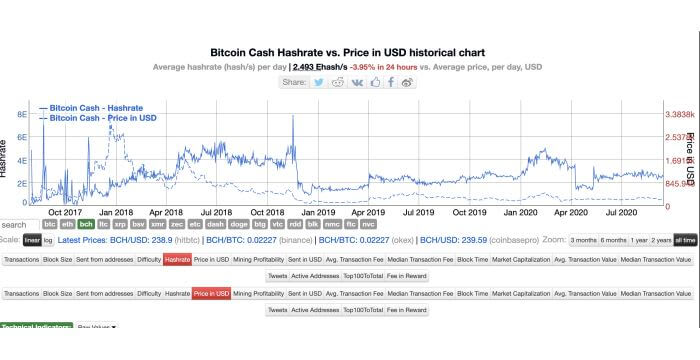 There hasn't been a lot of apps that track the network activity of cryptocurrencies, even though fundamental metrics such as transactions per day, fees, mempool size or transactions per block have correlation with the price of bitcoin. If you know a tool that monitors blockchain network stats, we want to hear about it.
Bitinfocharts have charts of hashrate compared with scaled price for most of the history of Bitcoin (since 2010).
The same data is available for Litecoin, ZCash, Dash and quite a few other Proof-of-Work cryptocurrencies, most of which do not seem to display any correlation though.
The same page has a menu below the chart where you can switch to other crypto fundamental metrics such as transaction counts, active addresses, mining profitability and more.
The basic Binance Smart Chain Network Utilization Chart shows the average gas used over the gas limit in percentage.
The rest of the network stats includes classic metrics like unique wallet addresses, daily transactions and daily active addresses.
Blockchain.com (formerly blockchain.info) has most of the conventional network activity metrics, including confirmation times and fees.
You cannot overlay the data with price, but you can export them into CSV.
Etherscan offers the most looked for network metrics on ETH blockchain in a style similar to what blockchian.com does for BTC.
You get data on gas usage, transaction costs and split statistics about transactions done in ETH vs ERC20 tokens.
Social media sentiment
sentimnt.io is a simple one-glance tool that measures Reddit post and comment sentiment for major cryptocurrencies. You get the total number of mentions, positive and negative percentages and a simple chart plotting the development of the sentiment over time.

AltcoinAnalytics publishes social media analyse reports with data from a Python script that gives you the information about which cryptocurrencies and ICOs are getting most attention - positive and negative. You get free primers but the full analyses are paid. Primer on NEO from October 2017 with brief explanations here on altcointrading.net.

Solume.io is a tool for crypto media analysis that gathers mentions of 200+ coins at Twitter, Reddit and Bitcointalk. It publishes the media mention volumes and sentiment and also identifies the currently trending cryptocurrencies. Each cryptocurrency gets its own page with more detailed info such as top social media posters and an overlay chart of price development vs social media volume. Here is the page for Bitcoin.

Crypto News aggregators
Most crypto portfolio trackers will provide a news section. Bitfinex trading app also now offers this functionality. These usually only track the major publications though.
If you want to customize what you get or also see smaller blogs in your feed, there's plenty of dedicated aggregators for that.
CoinSpectator is a news aggregator that sources hand-picked cryptocurrency blogs and blockchain news sites, all updated realtime.
You can choose whether to view blogs, news and press or all of it.
There is also a leaderboard of ICOs that you can filter out - current, upcoming, proven scams and more.
CryptoPanic is a popular news aggregator that comes in a free and premium version.
The premium version lets you add your own RSS feeds or Twitter handles to track.
CryptoPanic comes as a time-based feed, sortable by categories such as Regulation or ICO News. Other than that, if you type a symbol like ETH into the search box, it will filter out news mentioning your coin. It will also plot a chart for you with data from coinmarketcap.
CryptoFlash is a newer aggregator that gathers news mainly from various subreddits related to cryptocurrencies.
The app has better filtering by coin.
The Bitfinex trading platform now has a pretty good option for news tracking.
Users can customize Twitter feeds and other news sources to follow right from the trading interface.
Crypto Events
CoinMarketCal is a calendar of crypto-related events.
Features not only conferences and meetups, but also coin listings on important crypto exchanges.
The website provides email alerts if you sign up (remember to use burner email).
Crypto OPSEC and Security Tools
We have put together another list of tools for crypto traders and investors that only features tools for cyber security, opsec in crypto and scam detection.
GoodOPsec.org provides two cheatsheet here, one on how to secure a laptop and one on how to do the same for an Android phone.
It needs you to be quite technical, but if you actively move a lot of crypto it's best not to rely on your devices default functionalities.