I know, I know - everyone is tired of seeing His Majesty's face everywhere, just like everyone was tired of seeing Vitalik's a few years back.
But if you use FTX and benefit from their fee discounts, there's good news: FTX.com is getting added to the Coinrule crypto trading bot next week.
DCA is one of the most popular trading strategies because it allows long-term bulls to buy without worrying about the price action. It makes sense, since you are only focusing on future gains, if you are long-term bullish.
This strategy also works well because there's no need for any guesswork, just buy at regular intervals. This is what makes DCA one of the most common trading strategy for people to automate.
FTX.com has a geeky tool similar to a command line where you can set up weekly DCA for free, and here's the recipe.
But if you want to set up your automation in a drag-and-drop app, Coinrule is the platform. They have just recently added KuCoin if low-cap crypto is more your style.
Buying the dip with a bot
With the Coinrule bot you can fuse your DCA with a little bit of technical analysis as it allows for set parameters.
The beauty of automated trading is that you can tweak your strategy to fit the market, circumstances and opportunities as they arise.
A good example would be adding RSI to your DCA bot — that's the relative strength index. Doing that you can set up your bot to not just buy regularly, but also buy low.
Here's what it looks like: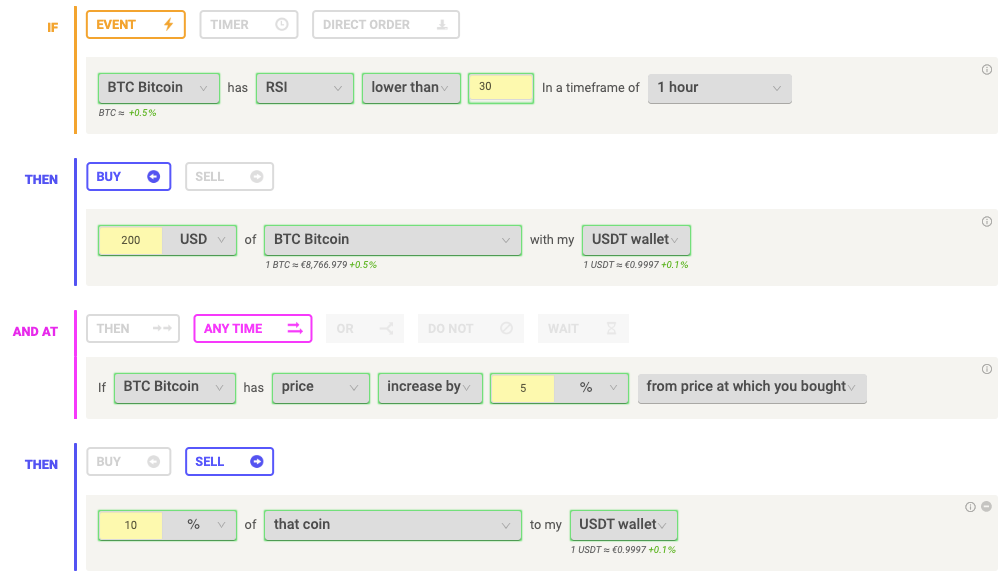 In Coinrule, this is still branded as a DCA bot template but in fact, if you set it up right, it really is a dip-buying bot.
You don't need to buy the dip manually, the bot will check the markets regularly for you and decide whether they're dipping enough based on a technical indicator. Coinrule provides a strategy tester along with their 150 pre-made templates, by the way.
More tool updates coming soon.
---