Exodus wallet is one of the most popular free software wallets. It has a killer UI and even better functionalities.
Exodus provides its own cold staking where you won't get ripped off on fees.
You can store NFTs in it (if they are on Solana, they will even render as a visual gallery).
Exodus supports tons of currencies and stablecoins on all the usual blockchains.
There's a token swap on board for quick exchanges, but you can also log into your FTX account via Exodus to trade larger and with lower fees.
Oh and also, Exodus is an independent company, not a subdivision of Binance, which probably makes it a bit more shielded from any undue top-down involvement.
This how-to post is about a basic but practical function of Exodus, which is portfolio tracking.
Portfolio tracking in Exodus
Exodus lets you split your crypto wallet into multiple portfolios.
Each portfolio gets its own set of addresses, so you can be sure that you won't mingle (let's say) assets from KYC exchanges and no-KYC exchanges and won't ever have to use coin control to sell them.
Using portfolio, you also get a second fiat value reporting: There's one in the top left corner for your total fiat worth, and one pie chart overview for each portfolio.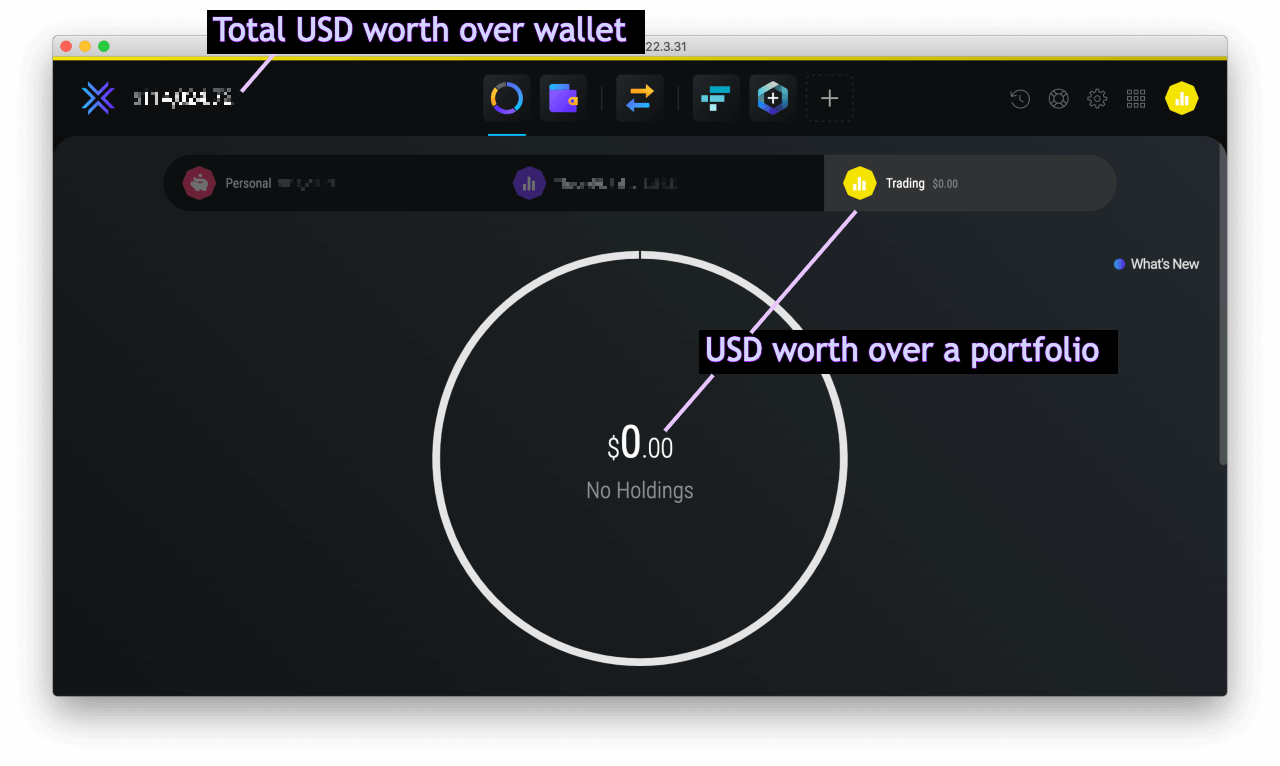 These two ways of fiat reporting are convenient if you trade or stake, but also long-term hold. Just set up a portfolio for each purpose. This way you'll see how your net worth moves in each of these income streams.
It's super convenient to do this in Exodus because you can cold stake directly from Exodus and you can connect Exodus to your FTX trading account too.
Btw, all of your portfolios are still under the same seed phrase, no need to do anything extra for backups.
How to start a new portfolio in Exodus
This guide is for the desktop app, but the mobile Exodus app uses the same icons for navigation.
Open your Exodus wallet and go to "Portfolios"

In Exodus, you can get to your portfolios from the header tab navigation, or via the right-hand-side menu.

Click "Create a new portfolio"

The Portfolios tab lists all your portfolios. If you've never created one, you'll see that all your assets are under the default portfolio "Personal".

Click the button to create a new portfolio.

Choose a name of your portfolio

Here I went with "Trading", to create a wallet account for my degenerate hobby.

All the settings here is just cosmetic, you don't create any new passphrase or key.

You've created an empty portfolio

Choose to go see the new portfolio by clicking the button on the right: "Continue to 'Trading'".

Go to your new wallet

To see the (empty) wallet of your new portfolio, click the wallet tab.

It will always open the wallet of the portfolio that is indicated in the top right corner.

If you load, let's say, your Trading ETH wallet, clicking on the portfolio icon and choosing the Personal portfolio from there will take you directly to the ETH wallet in your Personal portfolio.

You can navigate this way to select the cryptocurrency to transfer into your new portfolio.

Transfer funds into your portfolio

Because portfolios have each their own set of addresses, transferring some of your crypto into the new portfolio involves a regular, fee-paying transactions.

The advantage is that you don't need to copy-paste any wallet address to transfer between your own portfolio accounts: Do not use the "Send" button but the one on the left that says "Transfer Funds".

This way you can transfer crypto between your own portfolios without dealing with your addresses at all.

Check the transfer in the list of your transactions

You will get a pop up notification about the transfer right away.

It is marked as an internal transfer in the list of your transactions as well: No addresses involved, just the icon of the receiving portfolio.
That's all folks
Now you can go ahead and set up cold staking or start trading through FTX.
Don't forget to use 2FA and a withdrawal whitelist on your FTX account - it's really important if you access FTX through a third party app.
---