Cryptowatch is one of the the real OG tools for crypto traders that started as an independent project but was later acquired by Kraken exchange. That acquisition fortunately did not change much from the users' point of view and now, Cryptowatch is one of the most popular crypto charting and trading platforms.
Unlike Tensorcharts, they did not go the way of developing high-tech functionalities for dedicated crypto traders. Instead, Cryptowatch has become a platform where most crypto investors and most technical analysts can get just what they need for either no cost or quite a low monthly fee.
In this article we'll explain where on Cryptowatch to do the basic chart watching, then moving on to the advanced stuff, which technical analysis tools on Cryptowatch are rare and a pretty good bang for your buck, and eventually for the spreadsheet people and arbers we'll point out the data tools that Cryptowatch offers for a small fee.
The Basics
Cryptowatch Desktop App: Good for Baby-sitting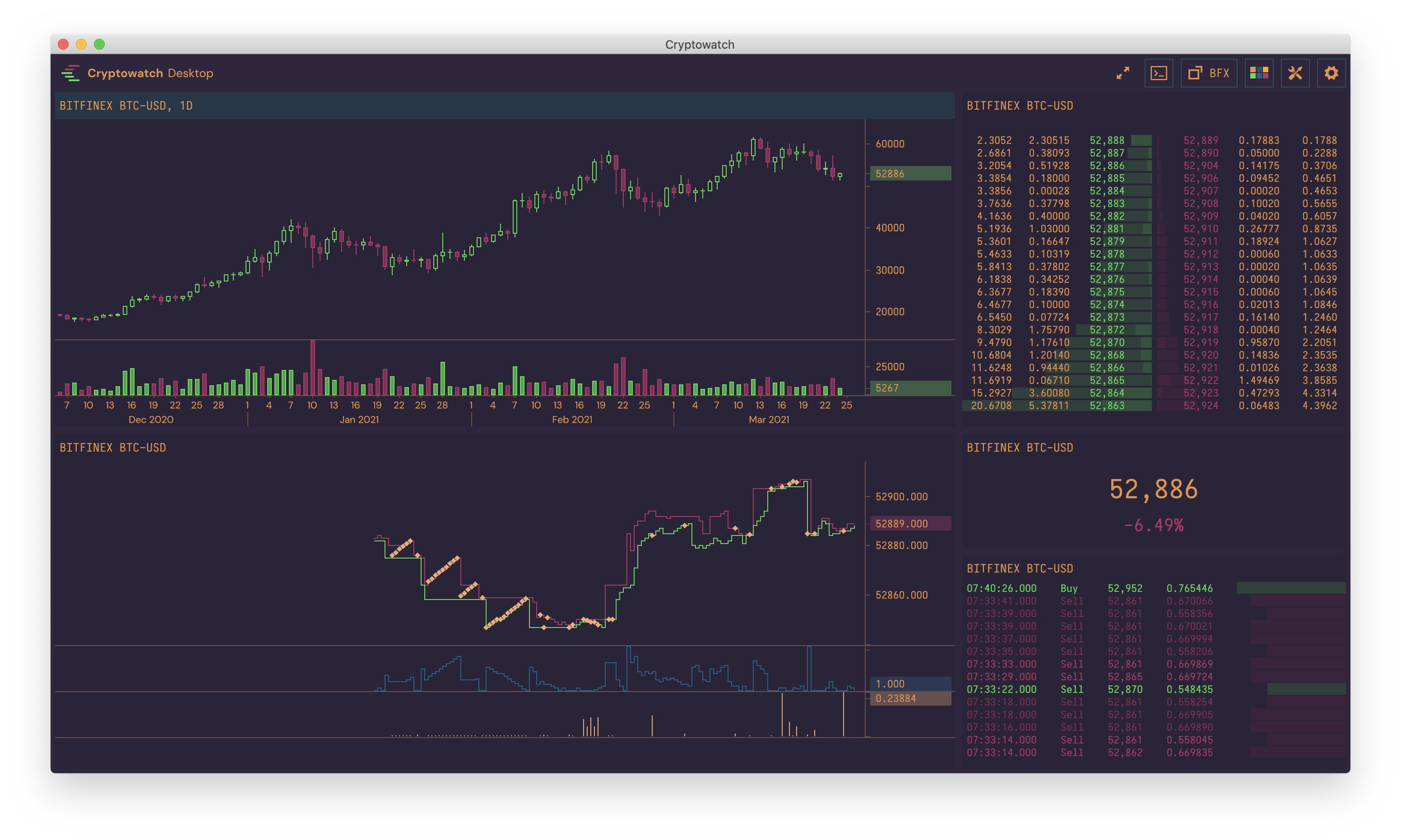 If you are crypto OG enough, you will remember the one thing that Cryptowatch users would complain about: The memory consumption.
If you let a chart up for a bit, the site would get slow and sluggish and some laptops would even start overheating.
Good news is that the desktop app fixes this.
If what you're interested in is having a chart up (perhaps because you're waiting for an entry or exit point with your trade), the desktop app is built for that.
It will not fry your laptop because it consumes very little resources. Look at the screenshot of htop.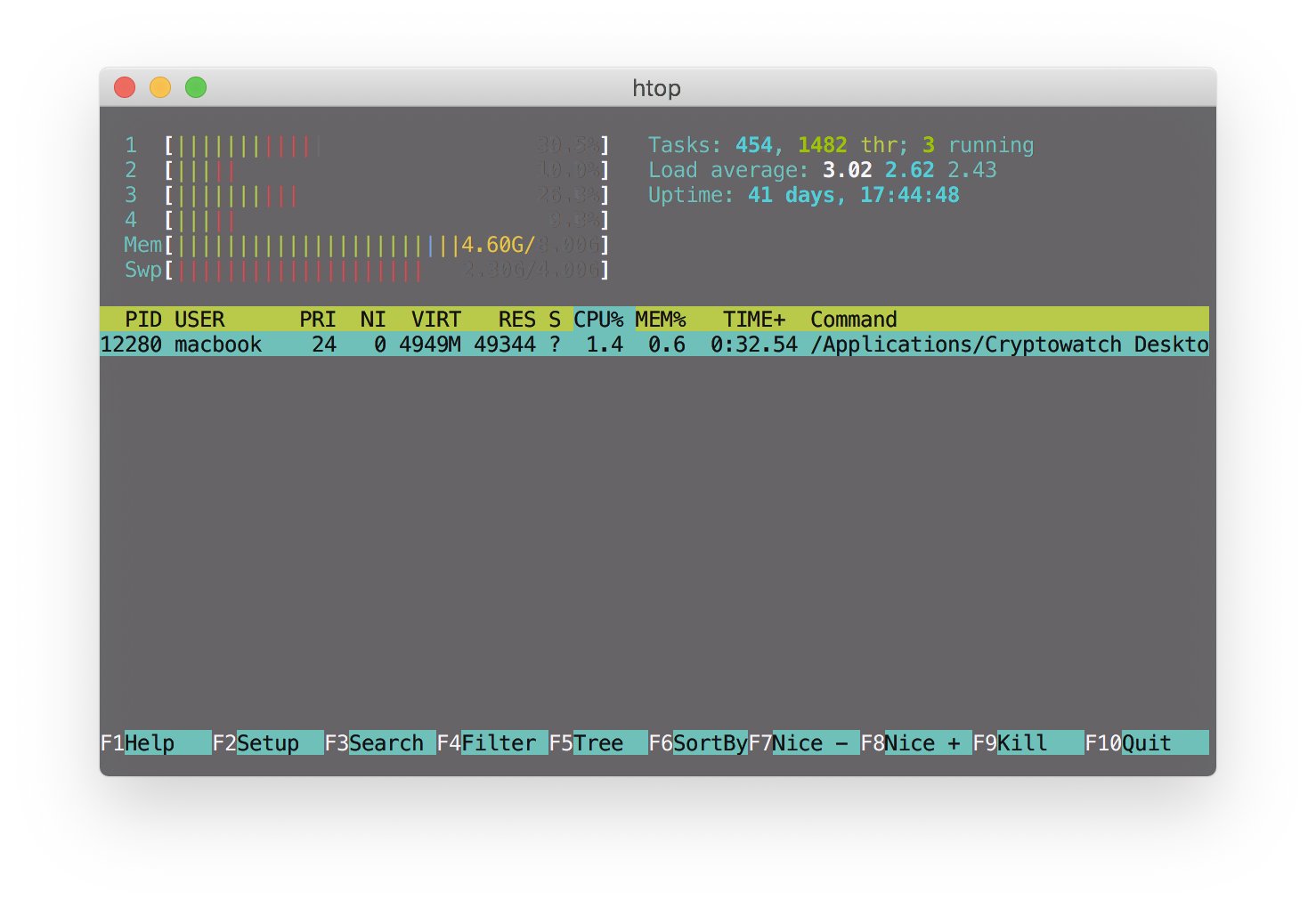 See the CPU and MEM column? That is very lightweight.
The downside is that the desktop version does not yet have the same range of functionalities as the web app, not the way it is today.
But that's fine - it serves the good purpose of having a lightweight app with realtime candlesticks chart that you can just keep running for as long as you need.
Cryptowatch for Portfolio Tracking
For those of you who are not active traders or technical analysts, Cryptowatch can work as a portfolio tracker with a neat Bitgur-style heatmap showing your asset allocations, as a chart watching app with reliable price alerts and as a community.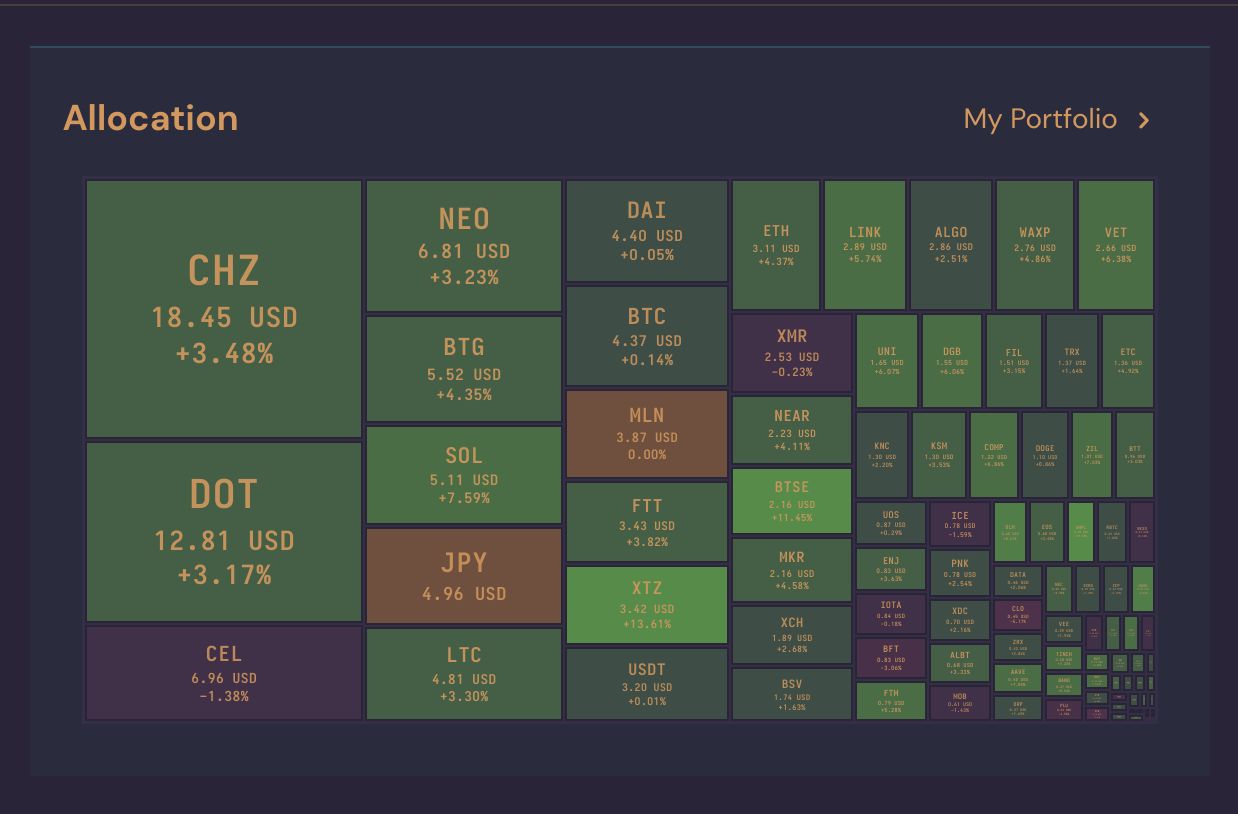 To use Cryptowatch for real-time portfolio tracking, you just need to generate a read-only API key on your exchange and copy-paste it.
It is a good practice to use read-only API access if you are not planning to trade from the interface, but Cryptowatch gets bonus points for not even letting you set up the API access without enabling MFA first.
Supported exchanges include all the good shops that you already use:
Kraken, Bitfinex, Binance, Binance US, FTX, FTX US, Coinbase Pro are among those available for both portfolio monitoring or trading
OKEx and some other trading platforms can be used only to track portfolio
For Kraken and Coinbase Pro a CSV export of all trades is available for your personal stats and the tax man.
Trollbox
Do people still do that? It's not 2017, but anyway, Cryptowatch has a trollbox split into sub-communities by chat topic (Not by market!).
If you often cruise on Reddit & Co to see what the mood in the community is like, Cryptowatch is not a bad place to add to your list. Relatively genuine and shill-free.
One good thing to mention is that by participating in the chat, you earn credits that you can then use towards real-time price alerts or API data.
The Advanced
Technical analysis: Stock-to-flow, Volume profile, niche TA
The functionalities of the Cryptowatch web app are much more rich than what you can get in the desktop app.
Not necessarily, advanced, Cryptowatch is very beginner-friendly if you stick with defaults, but there is a lot of things to explore and backtest, if that's what you want to do.
You probably already know that you can execute trades directly from Cryptowatch - just generate the right kind of API keys on your exchange.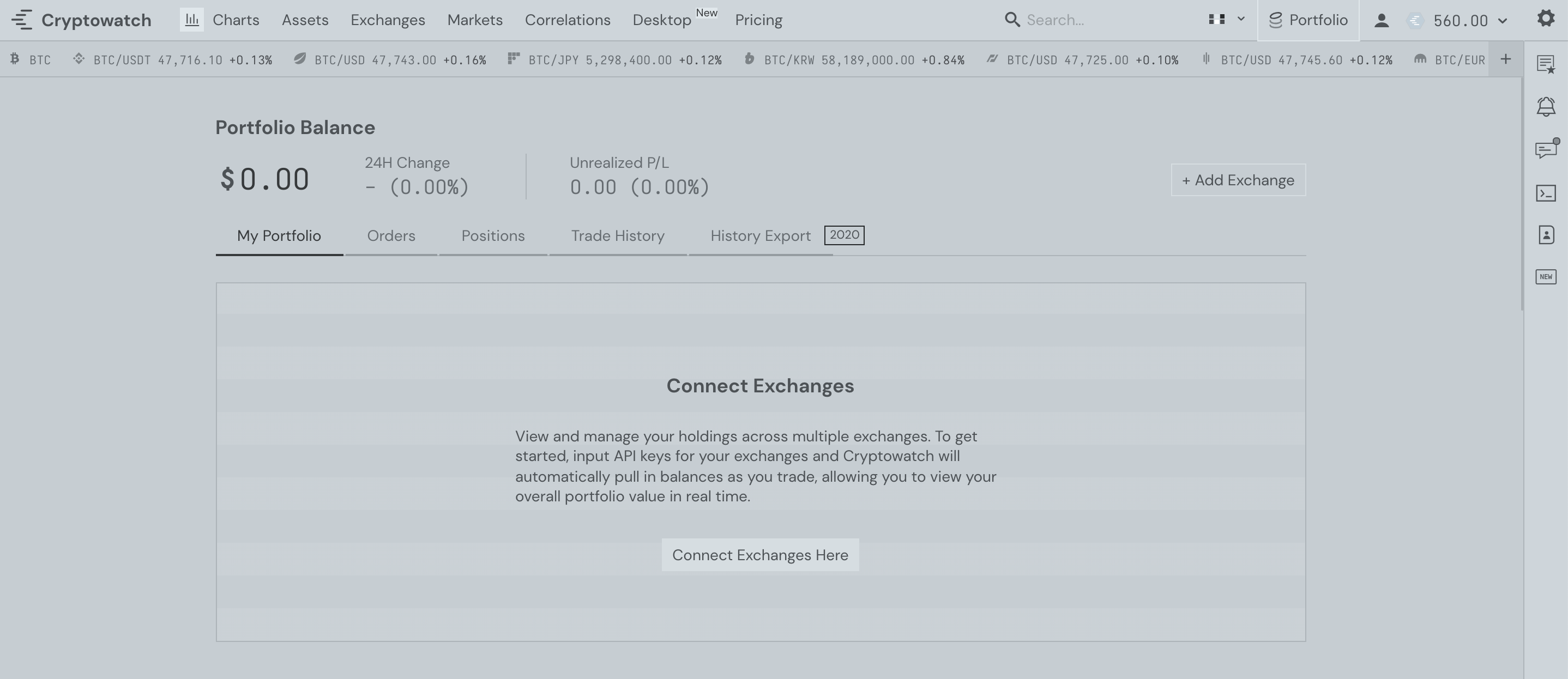 As for technical analysis, you don't get a full public library of programmable pine scripts the way you do with TradingView.
You do get much more than just basic TA tools on a cute chart, though.
Volume Profile and Market Profile on Cryptowatch
This is something that deserves much more raving than it's getting, but Cryptowatch implemented volume-based indicators and made them accessible in the free version.
The only catch is you need to know what to look for.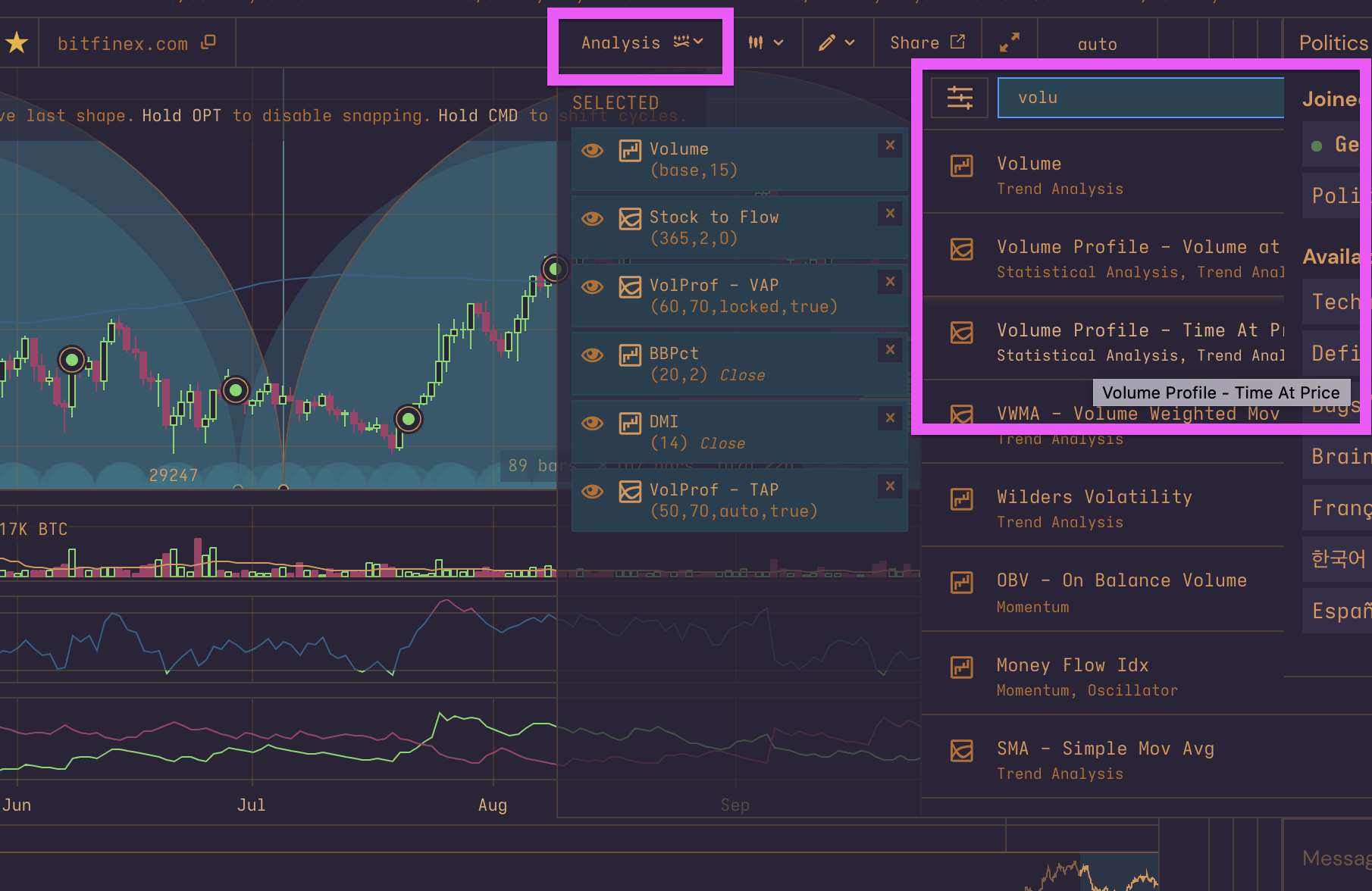 Step 1 - Click on "Analysis" in the top right-hand corner of a chart and look for volume profile.
Step 2 - You will see two options there: Grouping by traded volume and grouping by time spent at price level.
Both these options are already pretty well known statistical tools created decades ago for stock trading.
There's an option to use both at the same time, on either side of the chart.
Volume at price level
If you choose the volume-based profile, you will get a good equivalent of the volume profile of visible range, or VPVR, for exactly 0 USD monthly.
More on volume trading tools in our glossary:
Time spent at price level
The time-based profile is a lot less opaque, I'm sure. But the principle of this statistical tool is the market profile theory developed (and trademarked) by J. Peter Steidlmayer who wrote a short book that explains very well how it works.
I would really encourage technical traders and analysts to read up on market profile.
Your usual TA tools do not work with time at all other than averaging something over a number of periods, so adding a time-based tool could really make it easier for you to read what the market is doing in times of doubt.
Now that it's so easily available on Cryptowatch, it should really be a no-brainer.
More on market profile trading in our glossary:
Other interesting TA tools on Cryptowatch
Stock to Flow Indicator
Average directional movement and similar indexes
The Data
Google Spreadsheet Add-On Cryptofinance, Zapier and other paid tools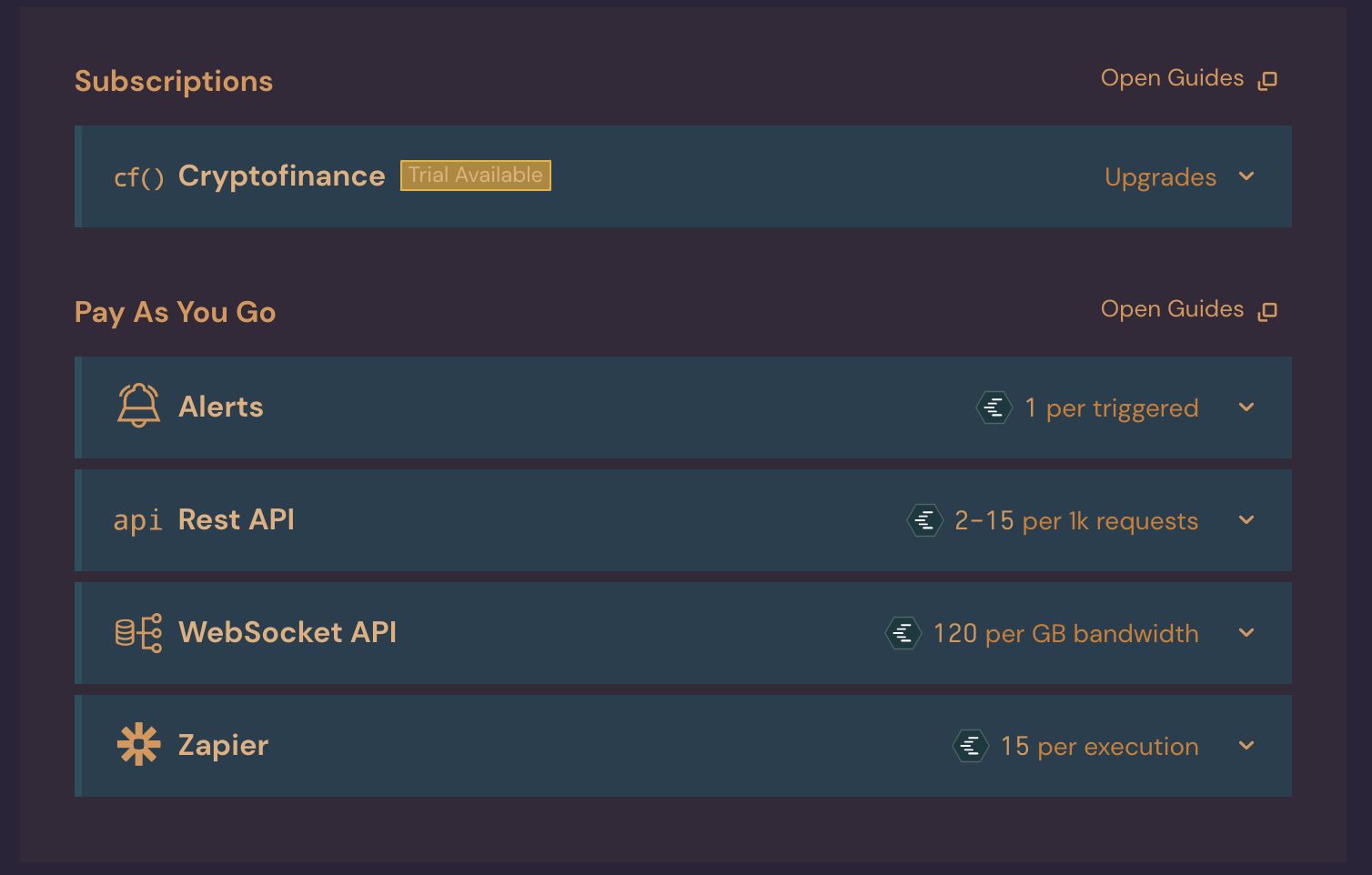 Last but not least, paid tools.
Cryptowatch has an API with data that can be pretty hard to come by, especially when it comes to crypto derivative data. It's really only fair that these are not available for free. And to be honest, it is nice they chose to make the data paid instead of nagging you to pay up when you want to add a second technical indicator, like TradingView.
The Cryptofinance spreadsheet add-on & other extras
If you do cash-and-carry or other trades that mix futures or options and spot, realtime price data feed of the crypto derivative is something you have probably been missing. There aren't any tools to get price data of small markets into a spreadsheet, other than manual input.
So, Cryptowatch actually has a tool that does that.
You can pull any Cryptowatch data directly into your Google Spreadsheet arb calculator or send it anywhere else through a Zapier app.
The cost of that will typically come to about 25 USD monthly, paid as you go in Cryptowatch credits. For comparison, 25 USD is worth about 2500 Cryptowatch credits.
For that you get a readymade tool, though - not just the usual API access.
Cryptowatch runs a Google Sheets addon called Cryptofinance that you can add into your spreadsheet and use for any kind of crypto market data in a manner that is similar to Google Finance add-on.
With that, it's just a few clicks to build your arbitrage opportunity calculators and portfolio trackers inside a Google Sheet.
The price tag of 25 USD surely justifies that for an active trader.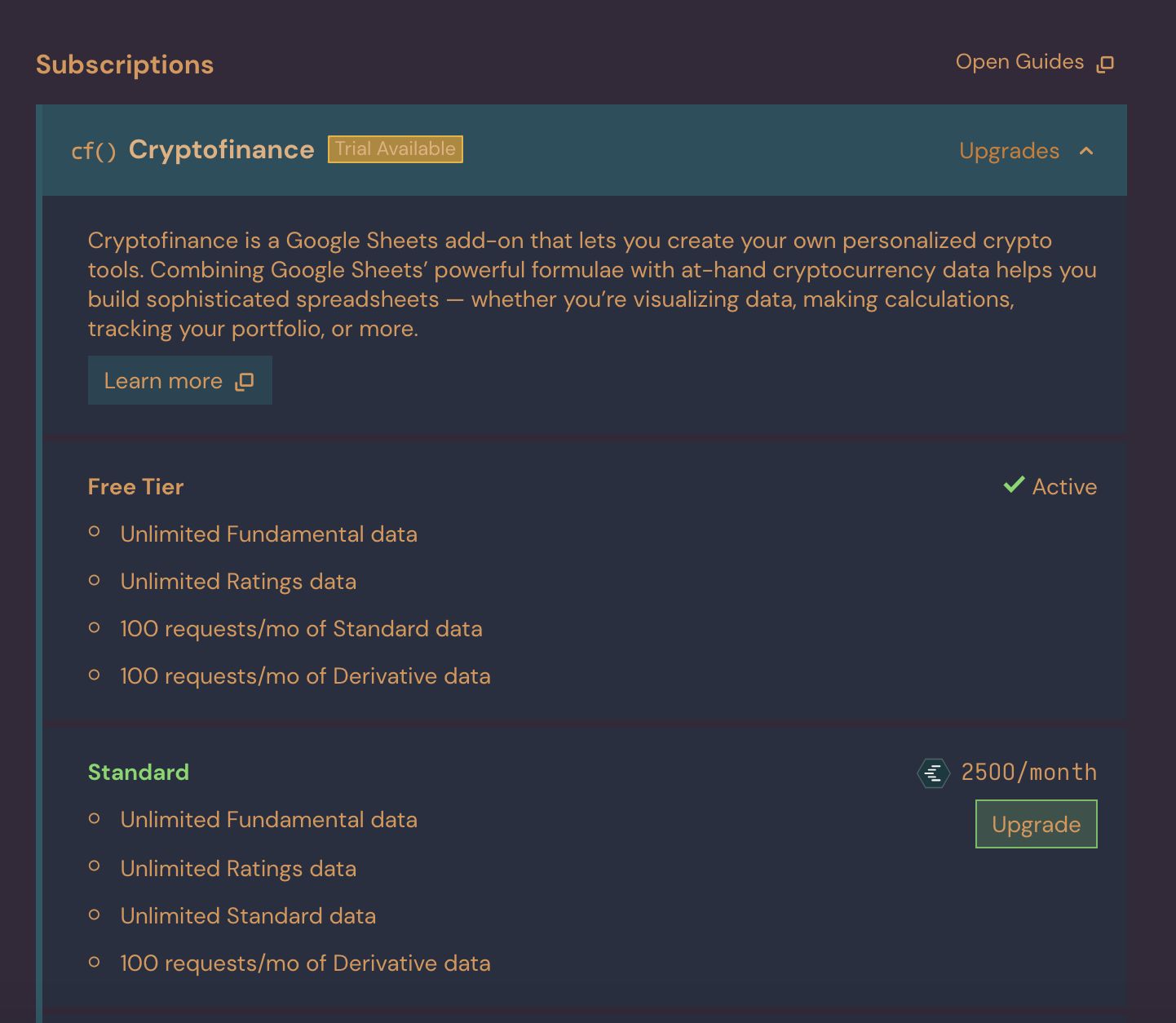 ---