This guide is meant for active traders and technical analysts who want to improve their skill.
Whether you day trade, scalp, swing trade or you just like to read the crypto charts to see whether it is time to take profits on your long-term holdings, trading journal will work well for you.
Ask anyone who trades crypto, forex or anything else. Inevitably they will tell you that without a trading log, you will either congratulate yourself more than is warranted or you will beat yourself up more than is necessary.
The same happens with crypto charting. You will only some of the conclusions your technical analysis brought you to.
Making a couple of notes for your own future reference solves this problem entirely.
Crypto trading journal software
It's 2021 and we have trading diary apps for all kinds of markets, even crypto.
If you daytrade, let alone if you run any sort of automated trading, spreadsheet logging will take crazy amount of time.
Long-Term Holders
For long term holders and traders who make 1-2 trades a month, a basic spreadsheet might be entirely worthwhile.
If this is you, follow this link to get one of the spreadsheet-based templates for trading logs there.
These are fully manual but don't require any sign up.
Active Traders
In the rest of this guide we are featuring the crypto portfolio tracker and trading journal CoinMarketMan.
The Enterprise version of CoinMarketMan is available for free as soon as you sign up at one of their partner trading platforms with a referral link from the web app. You can choose from Deribit, Bybit and FTX - Binance coming soon.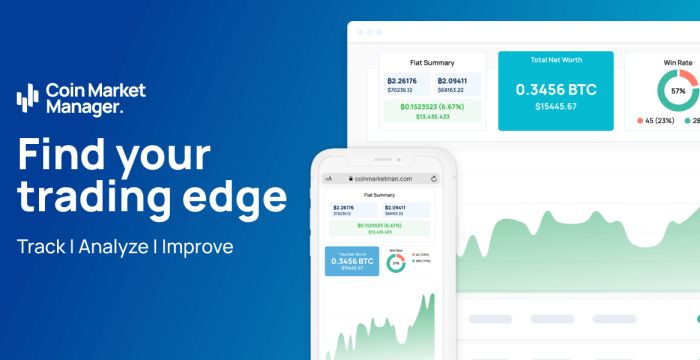 There are no other conditions attached to this offer, the enterprise plan unlocks as soon as you finish your exchange sign up. Your plan will never downgrade, not even if you don't trade over a certain volume.
You will simply save 49.99 USD a month forever, so trying it out is a no-brainer.
In the next section we will walk you through the unlocking and setup of your trading log at CoinMarketMan.
After the setup walkthrough we will get you a list of the best practises for logging your trades and market analysis.
Get your FREE account at CoinMarketMan
Automated Trading Log Setup Guide
1. Get your free crypto trading journal on CoinMarketMan
To set up the automated trade tracking at CoinMarketMan, you only need to make an account and sign up either at Deribit, Bybit or FTX.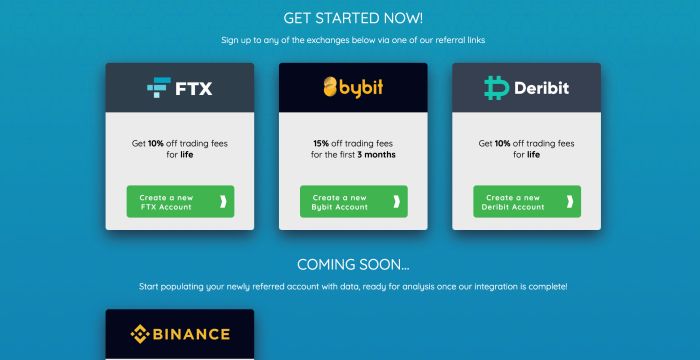 Generate a new API key on your exchange and make it Read-Only!
Navigate to CoinMarketMan's API Manager
Select your exchange and copy-paste the API credentials.
Generate and set up your read-only API keys for any other exchange that you trade on. CoinMarketMan does not support all of them, but they will add platforms that are requested often enough from the form in your API Manager:
2. Import your trades to CoinMarketMan
CoinMarketMan pulls data from your trading platform via read-only API.
You need to trigger the import, but you don't need to do it more than once a day as all the associated trade data are imported at once: Your open, your close, your stop loss, your profit and loss.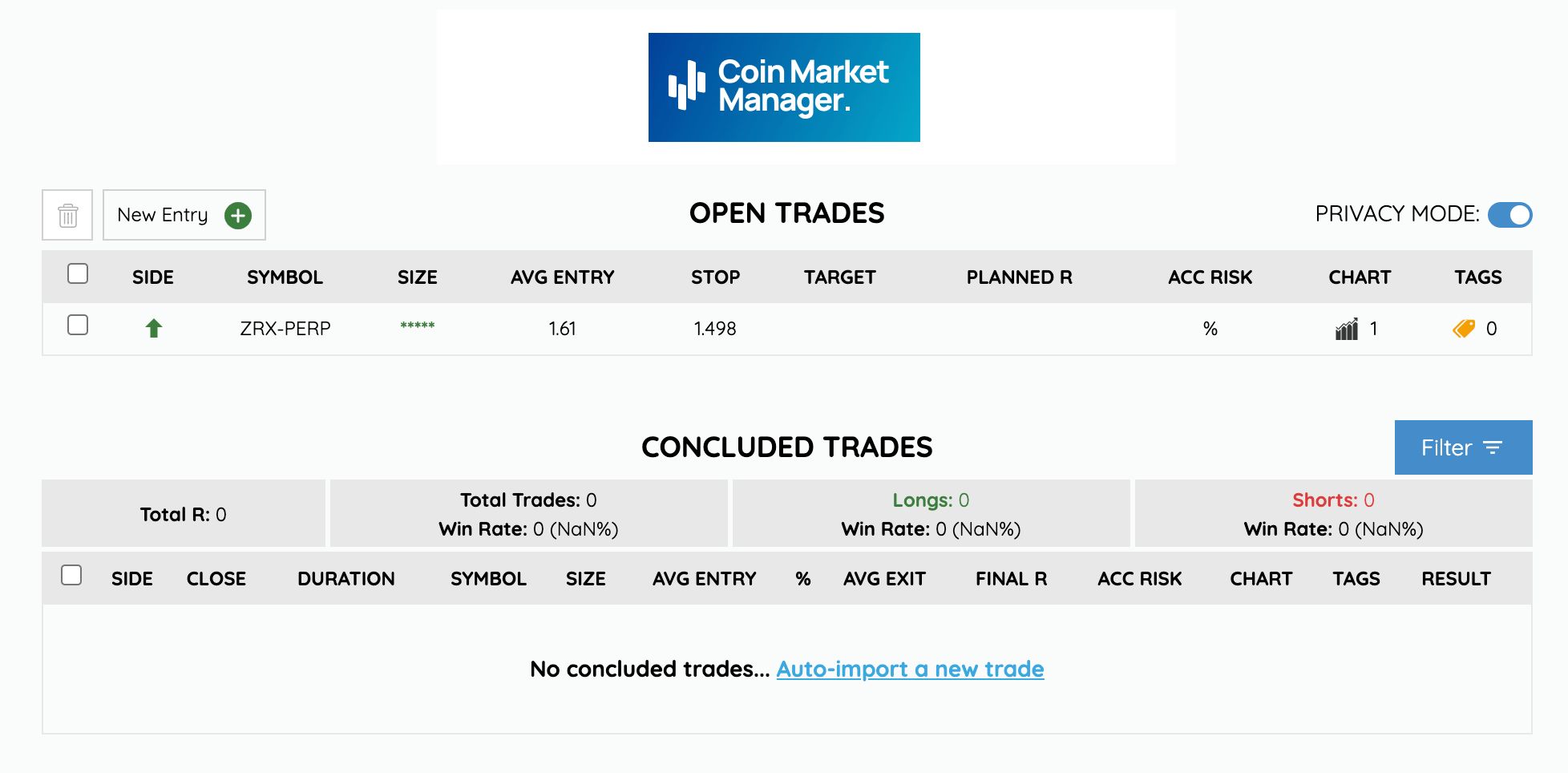 Navigate to coinmarketman.com/journal
Select the exchange whose history you want to record
The app will detect any open positions - import them with one click, or if there are none, import your trade history
Here the trading journal app will process the data and do the mundane data entry work for you.
Automatically imported data:
opens and stop losses for open positions
snapshot of current PnL and balances from open positions
open, close and PnL from closed trades
3. Add extra notes about setup and psychology
CoinMarketMan has space for additional info about your trade - both free and structured.
Use the free note space to explain the reasoning you made to justify opening each trade
Tag your trades! Tagging your trades is the best way to backtest your strategies. You can add any tag, but it's a good idea to always tag your setup (eg "bbands touch")
Another useful thing to log are the transaction fees you paid to move the money to your exchange
Recording your trading psychology is more helpful than it seems. Did you FOMO? Did you close on fear? Did you revenge trade?
One of the structured fields in CoinMarketMan lets you rate your confidence in the trading setup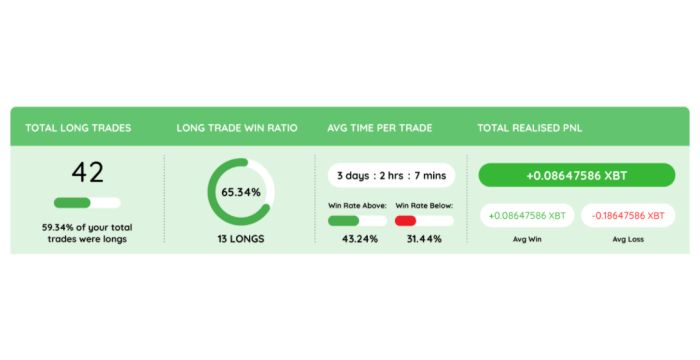 The app will make a statistic overview from both your data and notes over time:
Wins and losses per trade duration
Wins and losses per trade size
Wins and losses per direction of trade
Setup confidence report - how much do you win when you trade randomly vs with confidence in your setup
Tag report - how much do you usually risk on each tagged setup, how often do you trade on each and how often do you win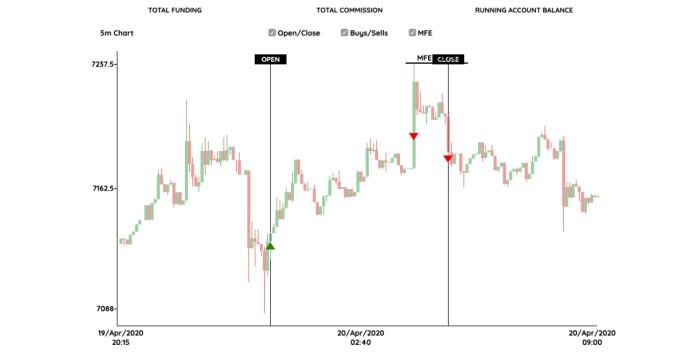 For a trader who wants to improve his skill instead of repeating his mistakes, the last two reports bring the most value: Your setup confidence and the setup tag breakdown.
And btw, you can't really get these in Excel without some brain-splitting charting magic.
4 Must-Do Trading Journal Practises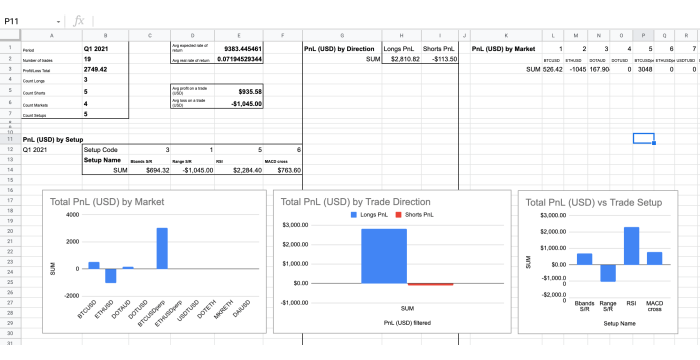 Make a log entry every day, even if you did not trade.
Even a short note is plenty. If you did not trade, jot down the reason for it: "no good setup - balance moved to lending".
Log your charts as well as what you see on them
The magic of crypto charting lies in drawing as many lines as possible so that it looks like you know what you are doing, of course. Jokes aside, looking back at your charts from last year, it is often not obvious anymore how you read them. Log that.
Every crypto trader has a couple of set ups or favourite patterns that they like to trade on. The most popular ones will certainly have something to do with Bollinger Bands, three pushes, RSI, Ichimoku or Divergences.
Make tags for them to be able to filter them out and see how they actually perform for you.
Note your position management.
Sometimes, the setup was good, but it was you managing the position that brought you close to calling a mental health hotline.
That is why it is important to note whether you used a stop loss and what was your plan for exiting the position at all.
---