Cryptocurrency markets have made a rapid rally following a series of violent price crashes in May and June 2021.
The so-called dinosaur cryptos, Bitcoin and Ethereum, as the two dominant market movers pushed up other cryptos along with themselves after bottoming out by July-end.
This is to recap the most important fundamental changes on the Ethereum markets in 2021 and their impact on the markets.
In spring 2021, the narrative was at Ethereum gas fees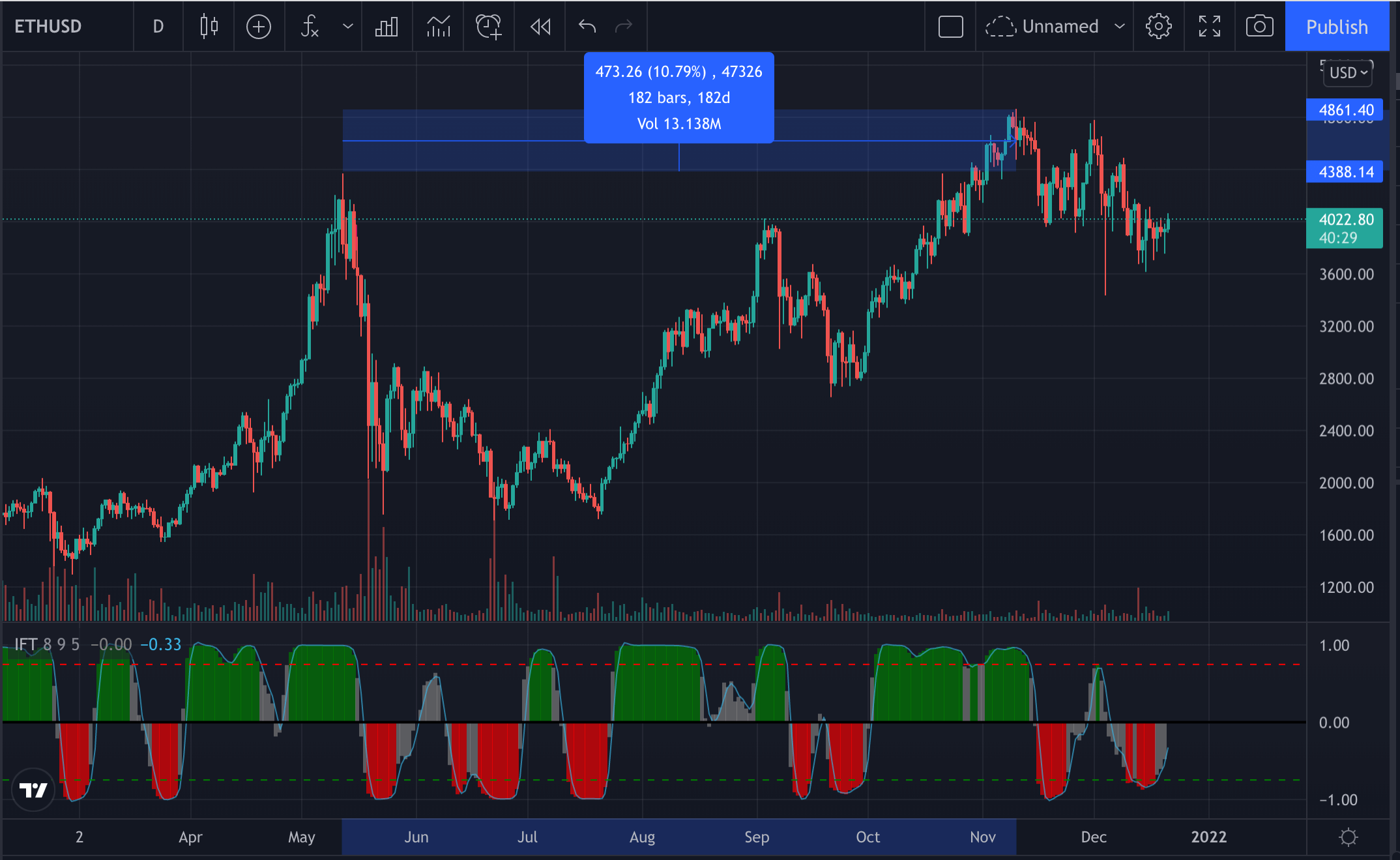 Back in May 2021, Ethereum started to crash from its all-time high price of $4,500 per coin after its network had gotten severely congested and transaction (gas) fees had exploded skywards.
This was followed by large, long-term Ethereum holders taking substantial profits from their Ethereum holdings.
That information comes from onchain data, as Ethereum runs on a public blockchain just like Bitcoin. There were long-term holders selling in spring 2021, but it's possible that they were just befitting the typical "sell in May and go away" tradition in crypto and tradfi markets.
During these sell-offs, Ethereum fell as low as $1,700 per coin as of July 20, 2021.
However, for a little time only, it stayed at those low prices, as we could observe on CEX.IO.
Ethereum London Hard Fork (EIP-1559)
On August 5, Ethereum launched its "London" hard fork, which in practice is a technical upgrade on its network. This particular upgrade was called the EIP-1559.
Before the EIP-1559 upgrade, all of the gas fees in the Ethereum network used to be paid to miners as a return for validating transactions in the network. During times of high traffic however, this leads to people outbidding each other to get their transaction through, and in turn to the well known exorbitant transaction costs.
To disincentivize the outbidding activity, gas fees are now burned and removed from the circulating Ethereum supply with the launch of EIP-1559.
Gas fees being removed from Ethereum's supply has, in return, started to create a shortage of liquidity in Ethereum markets. In fact, the upgrade removed an increasing amount of Ethereum supply from circulation due to the network being used more and more every day. This has led to the burning of more than 1 million Ethers in only 3 months, since August 2021.
The shrink in supply has caused a deflationary pressure and contributed to the price of Ethereum rallying upwards. The surge was additionally assisted by the rally in Bitcoin throughout August, with which Ethereum has been known to be strongly correlated throughout its market history.
Ethereum managed to move back to its May high in a matter of only 45 days after making its $1,700 low on July 20, 2021. Bitcoin bounced from $30,000 to $53,000 during the same period.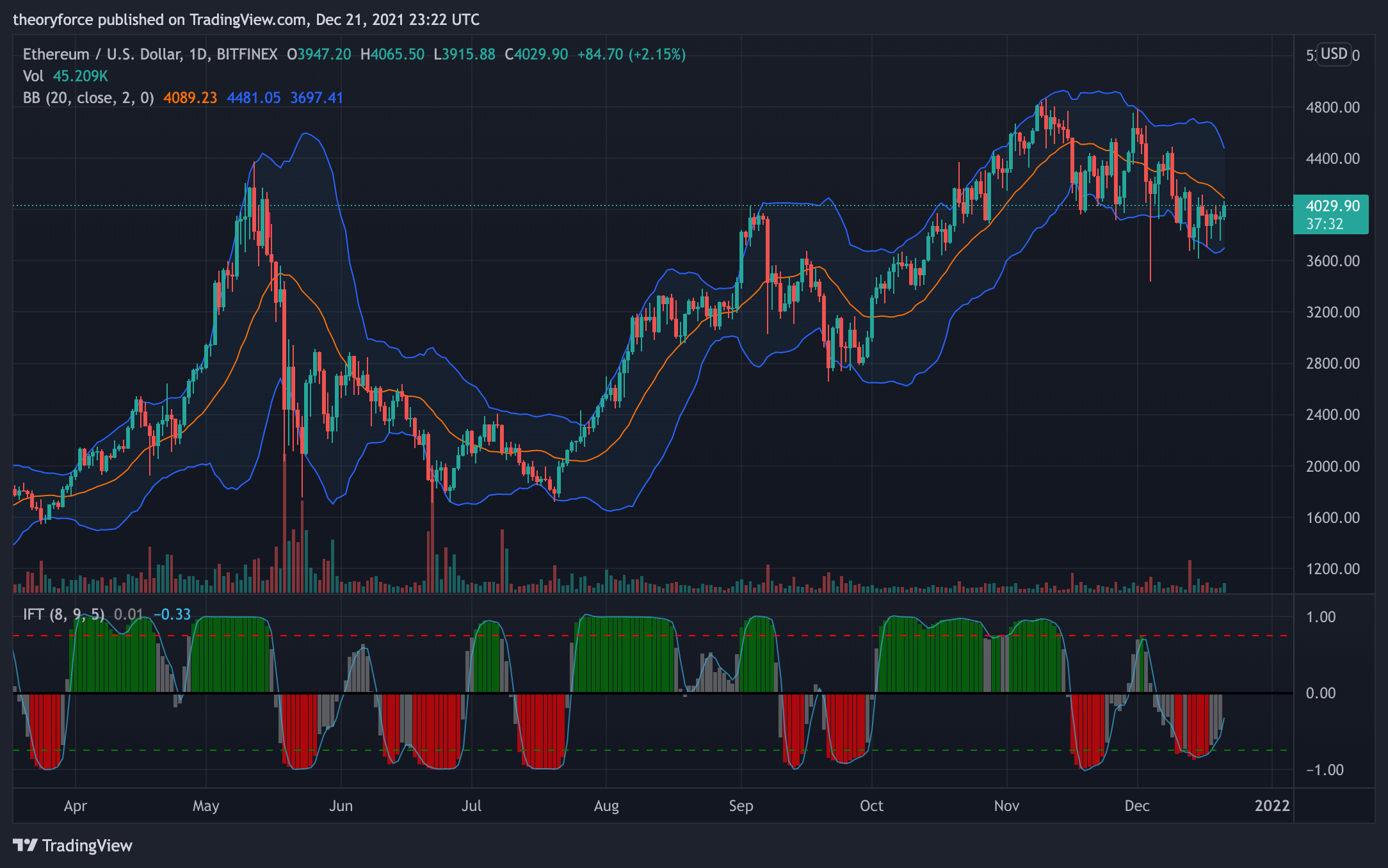 Ethereum Altair Upgrade
Following a brief consolidation period throughout September, a new catalyst for Ethereum came in October 2021 - the Altair upgrade.
Altair was an update for Ethereum 2.0's new blockchain that runs on a Proof-of-Stake (PoS) consensus mechanism. You may already know of it even if you're not up to date with ETH news: Ethereum 2.0 is among the highest paying alt coins for cold staking.
Altair brought a number of improvements in the operation of this new blockchain, which is expected to expedite the migration process of the existing PoW Ethereum blockchain to its new 2.0 PoS counterpart.
This development helped Ethereum propel to a new all-time high price at $4,800 on November 10, 2021.
Since that day, all eyes have been on the developments in the crypto ecosystem in an effort to understand whether the market still has juice for further upside price action.
Ethereum On-Chain Activity in 2021 Grew Substantially
In terms of Ethereum, although the on-chain activity has cooled off a bit since the Altair update, holders are still showing strong signs of accumulation as the number of prospective ETH 2.0 validators keep growing and coins are leaving exchanges at an accelerated rate.
Monitoring on-chain activity is useful to understand the supply and demand dynamics of a cryptocurrency asset. When the number of illiquid coins in a network increases, it decreases the circulating supply, which likely ends up with a surge in coin price.
The number of prospective Ethereum 2.0 validators has increased by over 10% since the July lows (from 105K to 120K).
ETH 2.0 has a minimum locked amount for validator nodes. A validator needs to have at least 32 Ethers and stake them to qualify, which means at least 480,000 Ethers have become illiquid since the summer of 2021.
In addition, the total number of Ethereum coins locked in the smart contracts of Ethereum-based applications (dApps) reached an all-time high of 28% by the end of October 2021. This means 28% of the entire Ethereum supply is illiquid, not in circulation and not to be sold.
A higher number of Ethereum being passively held in wallets and locked in smart contracts adds to the growing supply shortage.
Ethereum balances in cryptocurrency exchanges further support this picture.
Throughout 2021, there was a 25% drop in the Ethereum balance of cryptocurrency exchanges, which have been transferred to wallets (either for cold staking or for holding) and into smart contracts (for defi staking).
All these factors signal that the big money is still in an accumulation phase for Ethereum.
Of course, Bitcoin's next-round price action is still a key for the path of Ethereum, but as long as the big money does not sell a significant volume of their long-term Bitcoin holdings, Ethereum's fundamentals suggest that it is poised for another run in the coming months.
What Could Be Ahead for Ethereum?
Bitcoin is meant as a form of payment, Ethereum has utilitarian goals that could grow into a number of industries.
As we all know, Ethereum has smart contract functionality. In 2021, smart contracts have blown up into endless opportunities in the areas of finance and media, such as decentralized finance (DeFi), and non-fungible tokens (NFTs).
While Ethereum has a lot of competitors, it still constitutes the only truly decentralized blockchain other than Bitcoin.
The utility role of Ethereum could strenghten its position. Even if cryptocurrencies do not replace the traditional currencies that we use, Ethereum can still survive and keep growing due to its decentralized smart contract capability.
Ethereum is an open-source blockchain, which means anyone can create a new smart contract or an application that consists of multiple smart contracts on the Ethereum network.
In that sense, Ethereum's potential is limited only by the creativity of developers.
While no one knows how far Ethereum can become part of our daily lives, a large number of people believe that if today's internet is Web 2.0, Ethereum and all its decentralized applications could become Web 3.0 in the future.
While Bitcoin is still the alpha cryptocurrency that drags the market along with itself, Ethereum has numerous technology advantages over Bitcoin. However, there is never any guarantee when investing in cryptocurrency.
---