No doubt, search engine optimization takes a lot of work and its results are never fully predictable due to the changes in search algorithms that are beyond the SEO experts' control.
Add to it the only somewhat predictable volatility of crypto markets, and we have a hot mix. Or do we?
In this report we looked into the search trends for crypto with the crypto SEO experts from UniK to see how the crypto marketing industry is doing.
And more importantly, can we actually see any signs of the blockchain space becoming mature?
The Current State of Cryptocurrency SEO
Cryptocurrencies are not exactly a new thing in 2021, and neither is the branch of marketing industry that supports them.
In spite of that, the state of crypto search engine marketing is still quite abominable. Google was even banning cryptocurrency search ads until August 2021.
To understand the reasons for this lack of development, we need to look at who are the entities interested in crypto SEO.
Who Buys Crypto Marketing Services?
They are not long-standing financial institutions, they are not even fintech startups and they are certainly not technology service providers. Most often, SEO services are procured by people who take care of the marketing for token launches.
The exact flavor of the launch changes with the trend of the season. It could be a plain new alt coin launch, a new DeFi or an NFT.
But the tactic is typically the same, short term one: Generate a huge amount of press releases and SEO posts to gain some quick reach and hopefully convince some investors. Once the token sale is over, SEO and PR go by the wayside, because the money is already collected anyway.
Should Crypto Marketers Raise The Standards?
There is nothing wrong with short term tactics. I think nobody will argue with me if I say that they have worked very well for some of the alt coin creators.
But let's pull out some Google Trends data.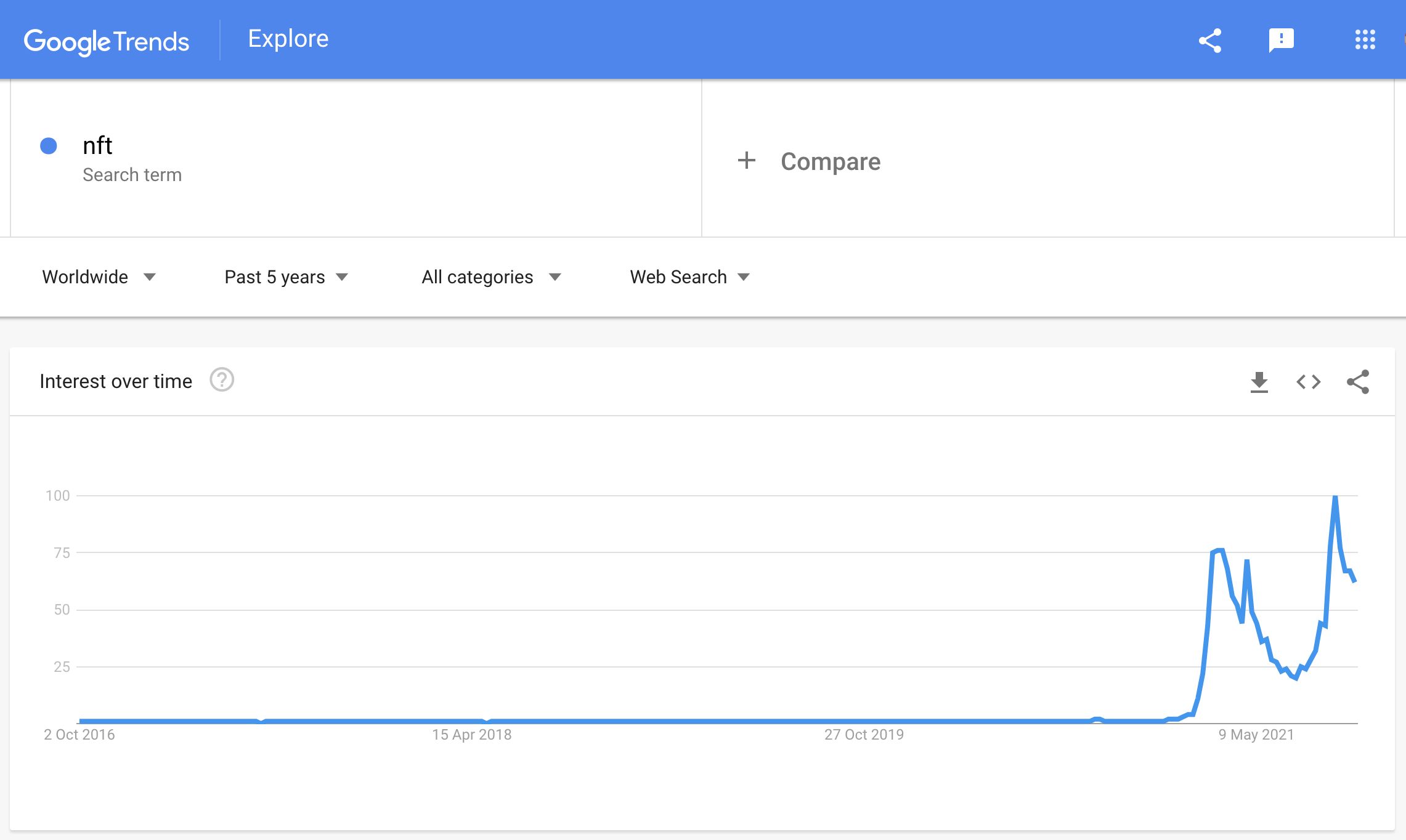 The latest hype of the blockchain industry are of course the NFTs, or non-fungible tokens.
Google search stats from Adwords puts the top number for NFT monthly searches to one million. That's certainly a lot of interest, and a lot of opportunity to make a mark.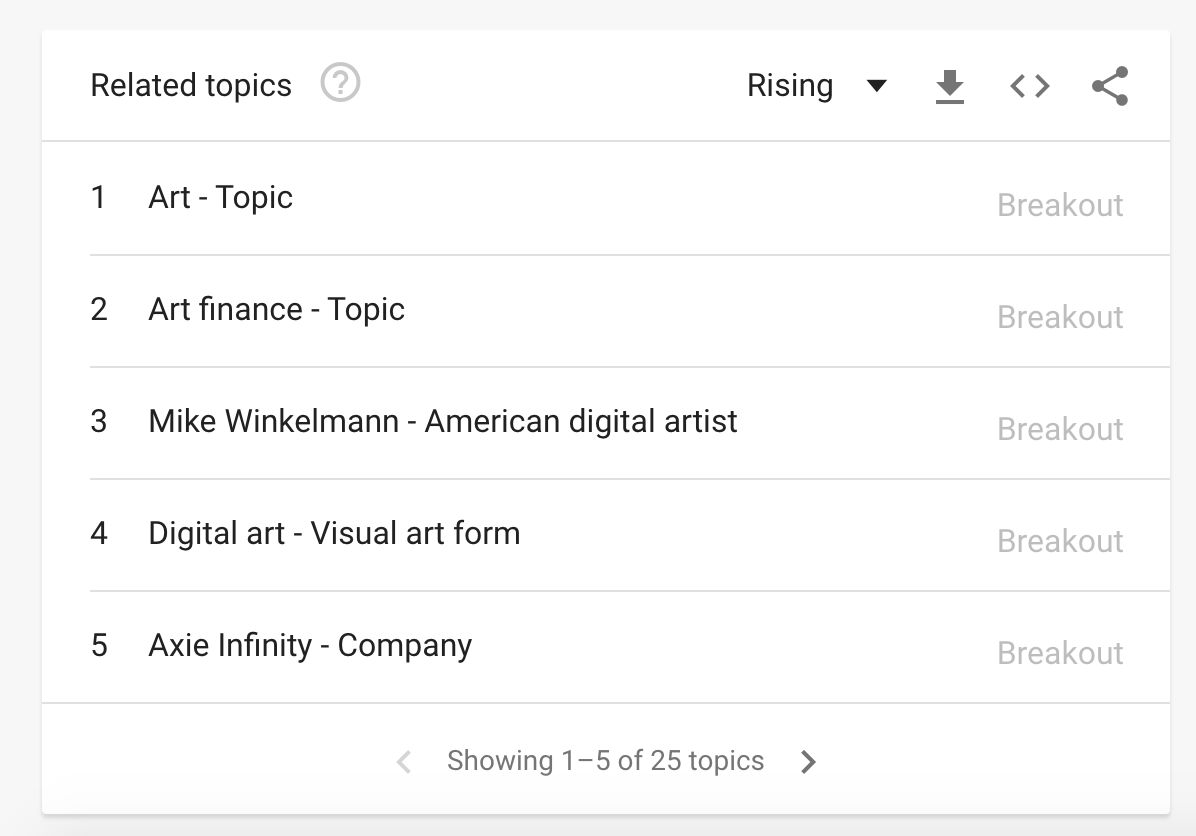 On the face of it, everything looks super healthy and the traction this new niche is getting seems unstoppable. That's great, isn't it?
Now let's lay over the search interest for the other three-letter word that everyone in the crypto world knows only too well: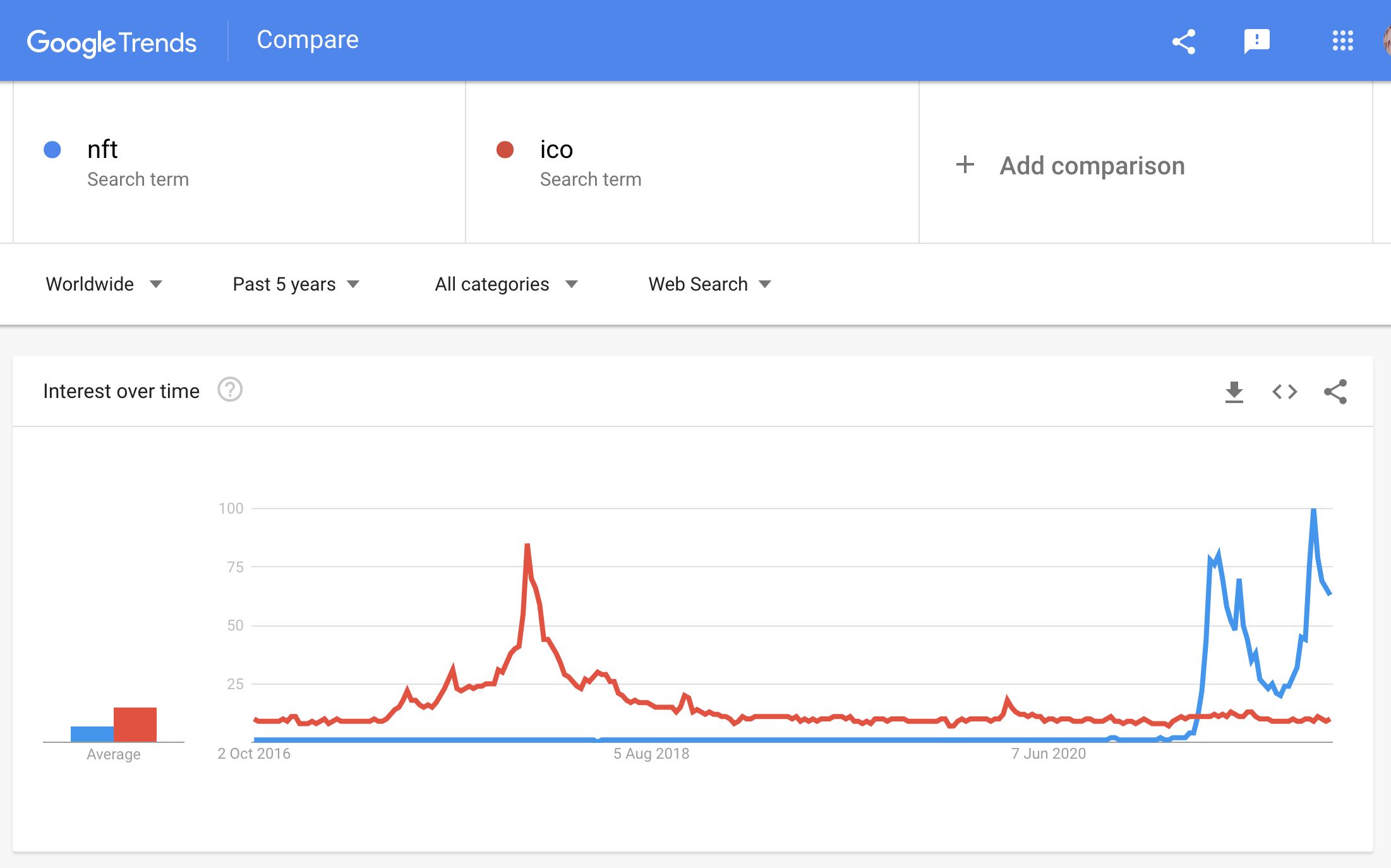 One picture for a thousand words, right?
The thing that is happening to blockchain tech innovation vehicles is essentially what all the legacy finance experts keep predicting for the price of bitcoin since maybe 2011.
The music stops, and nobody ever starts caring again.
Crypto SEO as an opportunity
I don't think that anyone believes that all ICOs and token launches must be a scam. It's just that the vast majority of past ICOs were really just devices to extract money from retail investors.
It was an easy way to get money without any strings attached, so a bunch of people just went and took the money. That's not the fault of ICOs though.
The year 2022 is coming and to this moment, there have been some 4500 different cryptocurrencies created. Fungible cryptocurrencies, mind you.
It probably doesn't make sense tracks the amount of non-fungible tokens, since each one of them is unique. So let's just stay with the currencies and tokens of the cryptoworld for now.
Out of that sheer bulk of different blockchain-based currencies, maybe three to five different brand names stuck in the minds of any regular person who isn't a cryptocurrency enthusiast.
I am not trying to say that crypto SEO is the one secret trick that will get your crypto project up there among the biggies. But it is a fact that there is an immense opportunity for crypto entrepreneurs who have a genuine idea that they are willing to develop and promote over the span of a few years.
The current state of cryptocurrency SEO reflects how few people have been doing that until now.
At the same time, the opinions exchanged among established marketers suggests that crypto is being taken seriously: The people who are interested are young, spendy and with a lot of disposable income.
In line with this, there is a growing number of media agencies that are adding a crypto angle among their list of services. This shows the trends might start changing in 2022.
Final Words
To state the obvious, among nearly five thousands tokens, even the most genuine project will not stand out without some marketing.
But other than that, good crypto SEO with its strategic work over time can really be the tool that takes a project beyond the spam of press releases announcing a token launch.