Just here for the ftx fee discount?
Sign up through Ftx referral link below to get 5% fee discount on Ftx.
Thank you for coming to our TED talk.
In this review:
FTX KYC - International
KYC threshold 1k total withdrawals
FTX.com does not accept US customers but the sister platform, FTX.us, does accept traders from the US.
FTX.com does not require KYC to start trading or making a deposit.
Traders at FTX.com are required to pass KYC once their lifetime total crypto withdrawals are about to exceed 1000 USD. The next tier KYC gives you up to 9000 USD daily withdrawals. Full verification at FTX.com has unlimited withdrawals as well as fiat access both ways.
The KYC process is quick and mostly automated, similar to what Deribit does. You state your address and take a snap of your ID, pretty much.
FTX.com is based in Hong Kong, so the lighter KYC approach is not surprising.
FTX.com markets
crypto spot & margin spot
crypto derivative contracts and perpetual swap
prediction markets
volatility contracts
tokenized stocks paired with fiat or large-cap crypto
Other FTX.com products:
crypto staking
crypto lending
FTX US Customers
KYC threshold 10k total withdrawals
FTX.us is a fully regulated US branch of the same FTX exchange. It was set up only very recently.
If you are a US resident, FTX will want you to stick to the US platform and the markets they offer there.
Sadly, what FTX offers to US traders is limited to your usual crypto spot markets and a few fiat forex pairs for arbitrage traders.
On the flip side, your no-KYC limit is higher at the US platform. Traders at FTX.us are only required to pass KYC with lifetime crypto withdrawals exceeding 10.000 USD.
Also, the trading interface has better features for active traders than your usual US platform. If you are American at some place mid-tier with your trading (not strictly OTC or a yield fund, but not exactly an amateur retail trader either), you will like trading at FTX.
FTX.us markets
crypto spot
basic fiat forex pairs such as AUDUSD
Other FTX.us products
stable fiat and stablecoin onramps and offramps
user interface ready for serious traders
Trading on FTX
FTX is aiming at traders who like their perpetual swap but are also not afraid to try new markets.
The user interface was very obviously designed for altcoin traders, arbers and anyone else who moves around different currencies, crypto or fiat.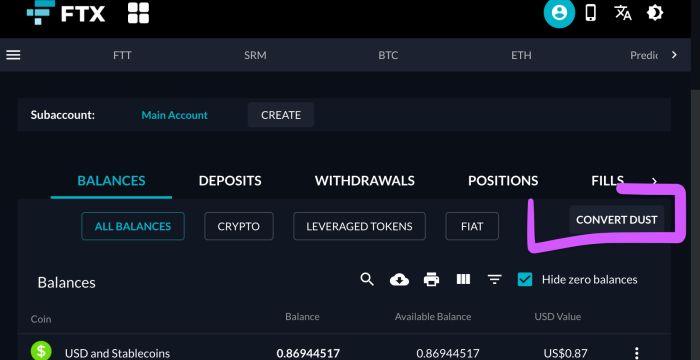 Your charts at FTX are from TradingView, which is to say the best you can get.
To sum it up, I'd reiterate what was said about the US branch of FTX: If you are somewhere mid-tier with your trading and not into options, you will like trading at FTX.
Get 5% off at FTX.com Get 5% off at FTX.us
If you just want to trade your perps without getting into KYC though, maybe just go for one of these places:
Crypto trading bot for FTX
On-Platform: FTX Quant Zone
FTX provides a native interface for simple programmatic trading - the FTX quant zone.
Here is an example of what it looks like from the strategy post on VPVR trading: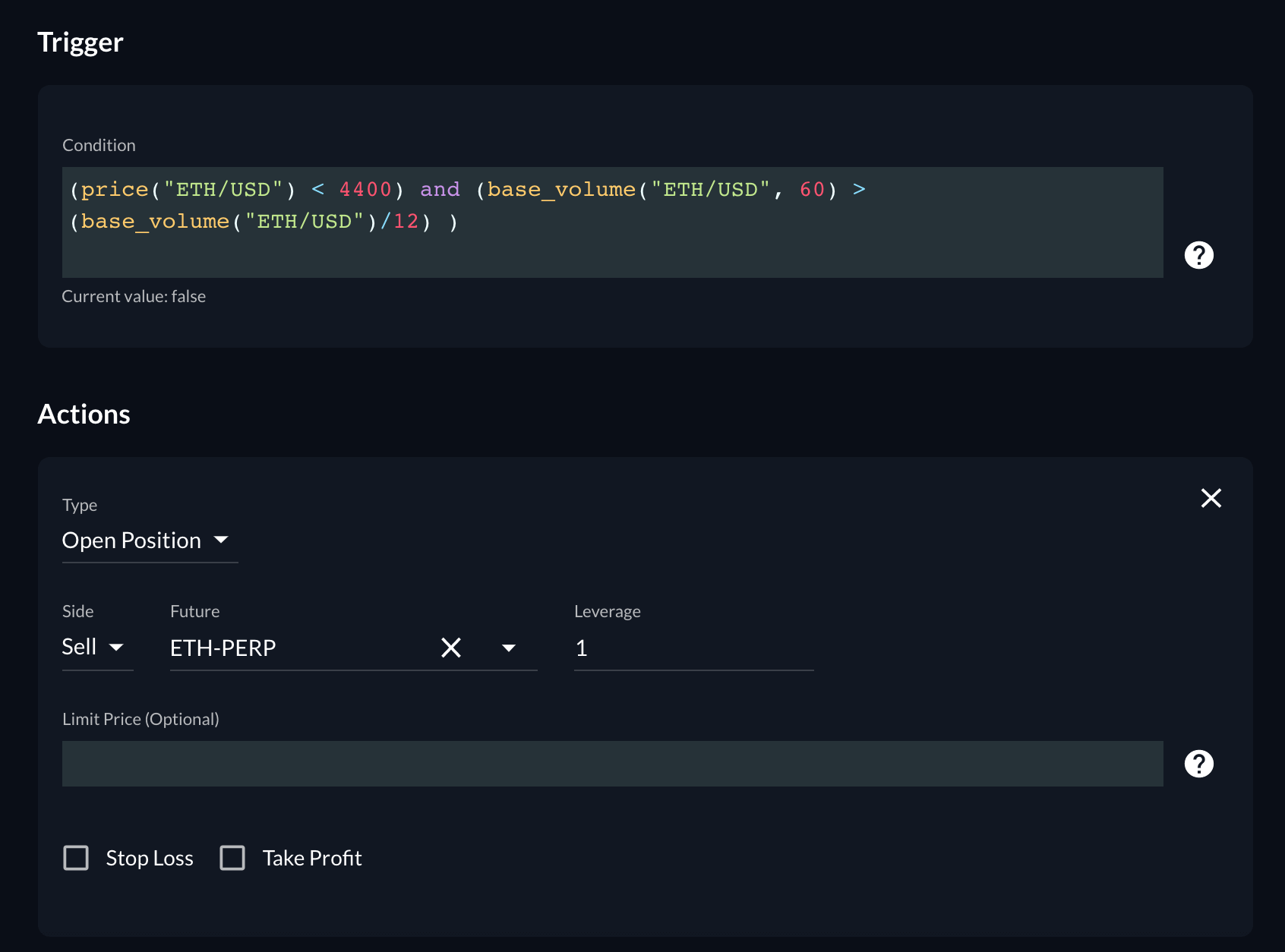 It is worth pointing out that the FTX market on which you set up your trigger does not need to be the same as the market on which you execute your order.
A simple example: Let's say, you own BTC, you want to buy a BTCUSD bounce but you also want to limit your potential losses in case you're wrong. In this case you could set up a trigger on the spot market and direct it to act on BTC perpetual swap with a stop loss, or you can direct it to buy a call option. FTX global does support options trading.
A market timing example: FTX provides several basket indices to work with: You can trade on the comparison of a single market vs an index. More on that in market timing article.
You could also work out a relationship between crypto and stocks, and direct the action to one of FTX's tokenized stock markets…Tons of possibilities here.
5% fee off with FTX promo code: altcointrading
Third-Party Bots
The on-platform tool does not provide much more than arithmetic operators though. You can do a lot with them, but you've got to be a bit of a nerd.
You won't get to trade on ready-made technical indicators there. Scalping strategies would be a struggle there, even though scalping is generally easy to automate. Likewise, creating rules based on multiple markets would be tedious, especially for portfolio rebalancing where values depend on one other.
For more than the very basic bot trading on FTX use either Shrimpy or Coinrule trading bot.
SHRIMPY: Auto-DCA, Portfolio Management and Asset Allocation
If you want to DCA into small alt coins, set up a portfolio-wide stop loss or automate your portfolio rebalancing, the better choice for you is Shrimpy.
Shrimpy added FTX in October 2021, traders can start auto-trading there after linking Shrimpy and FTX via API keys.
This is what the auto-DCA looks like in Shrimpy: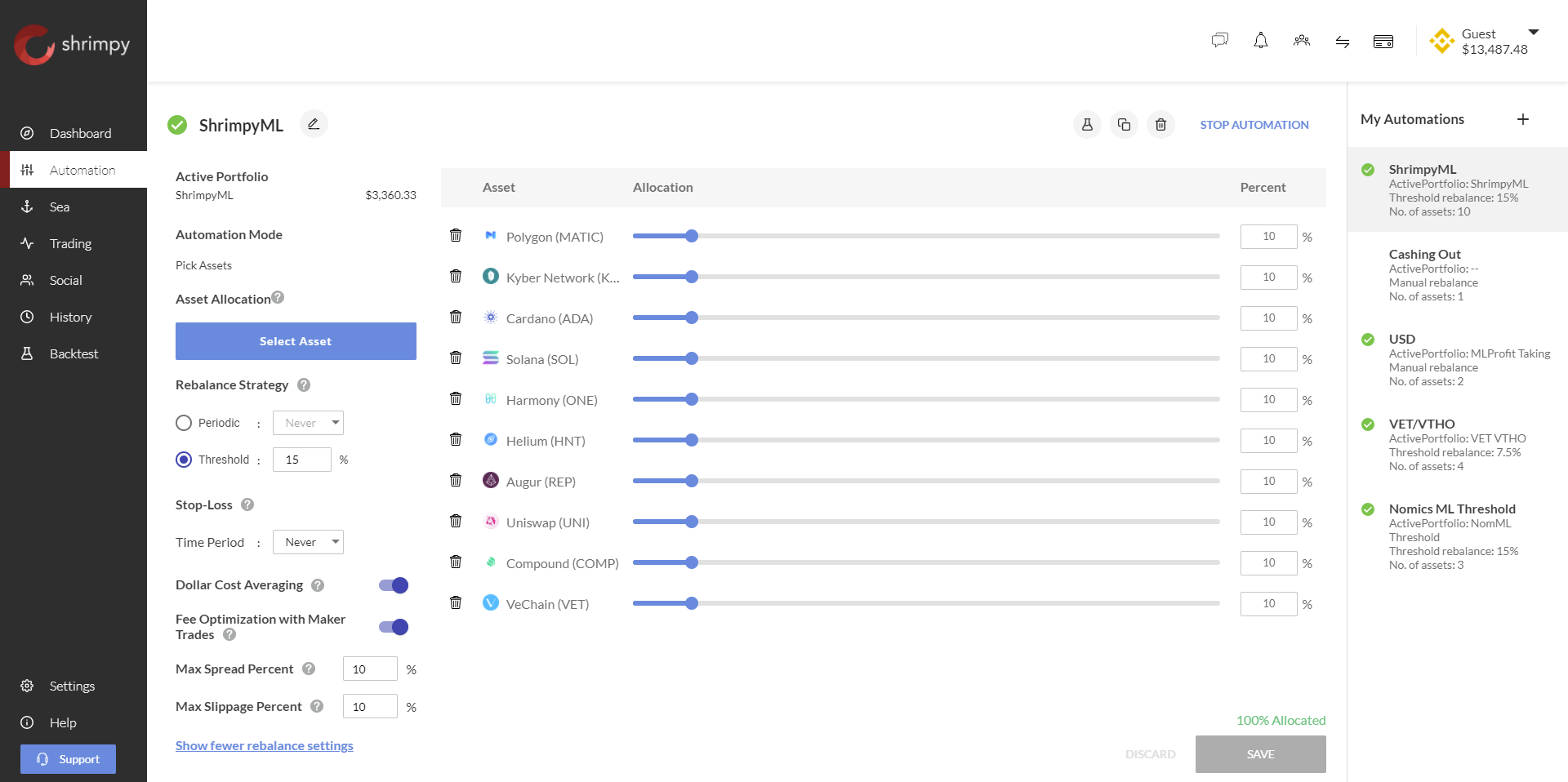 COINRULE: FTX bot trading based on technical indicators
Coinrule is the crypto trading bot platform that lets you automate trade execution based on the value of technical indicators.
Coinrule, just like Shrimpy, is a no-coding bot platform. Here is what it looks like to program spot buying crypto any time its RSI hits oversold, and starts scaling back out of it at 10% of profit.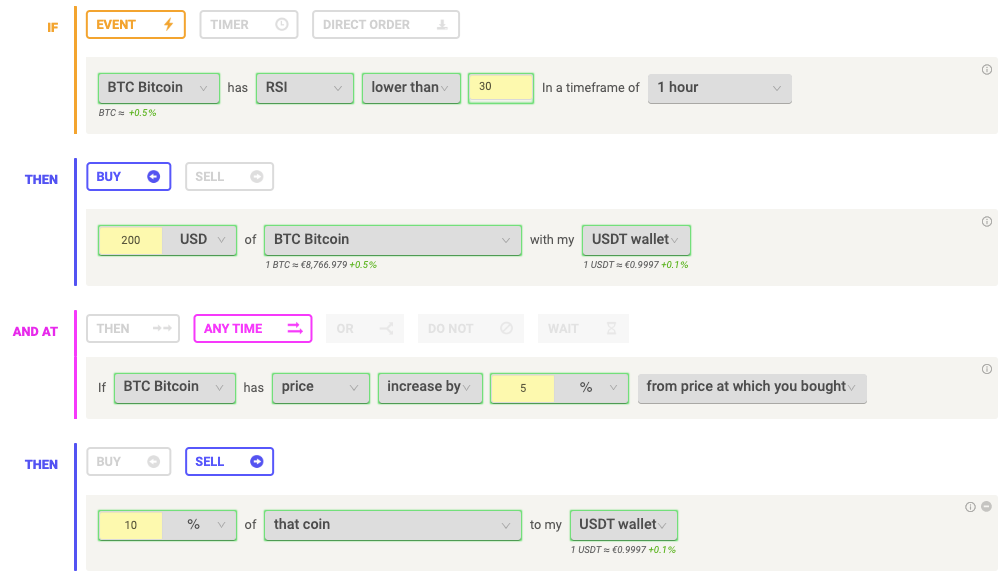 Who is running FTX?
FTX is pretty new in business: The international platform launched in early 2020, the US shop is even younger. The exchange duo is quickly gaining trust in the community though. Even though it is still lesser known among small retail traders, it's adjusted traded volume is among the highest in the industry.
You will not find any Twitter celebrity working at FTX, but crypto traders who have been around longer than one bull run will recognize the name Zane Tackett, who now leads business development at FTX.
Zane Tackett is the former public face of Bitfinex who started his career in Beijing at the time when crypto industry was just barely a thing yet.
Needless to say that Bitfinex and Binance are among FTX's business partners.