MOVR (Moonriver) is a token that is used to power the Moonriver ecosystem. Moonriver is a smart contract parachain on Kusama that runs on Ethereum.
The developer organisation of MOVR (Moonriver) is Moonbeam Foundation. The Moonbeam Foundation is a nonprofit that funds and promotes the use of blockchain technology.
Why does the crypto community invest in MOVR (Moonriver)?
Moonriver is meant to be used as a companion network to Moonbeam.
That means that MOVR is meant as a so-called canary system: New code will go to Moonriver first, there it will be tested under real-world conditions and only after all functionalities are validated, the code will be deployed to Moonbeam via Polkadot platform.
Because of this "sandbox" use case of MOVR, transacting, trading and staking this token is highly incetivized. This is what attracts investors and stakers to buy MOVR.
Is there any value in speculating short term on MOVR?
MOVR is one of the small altcoins that trades slightly out of sync with the big cryptocurrencies. See below its comparison with BTC and with the CIX100 crypto index of top 100 coins from TradingView.
At the price action of late April 2022, it provided the "last breath pump" that sometimes happens in small altcoins in times when big cryptocurrencies are already past the peak of the current cycle.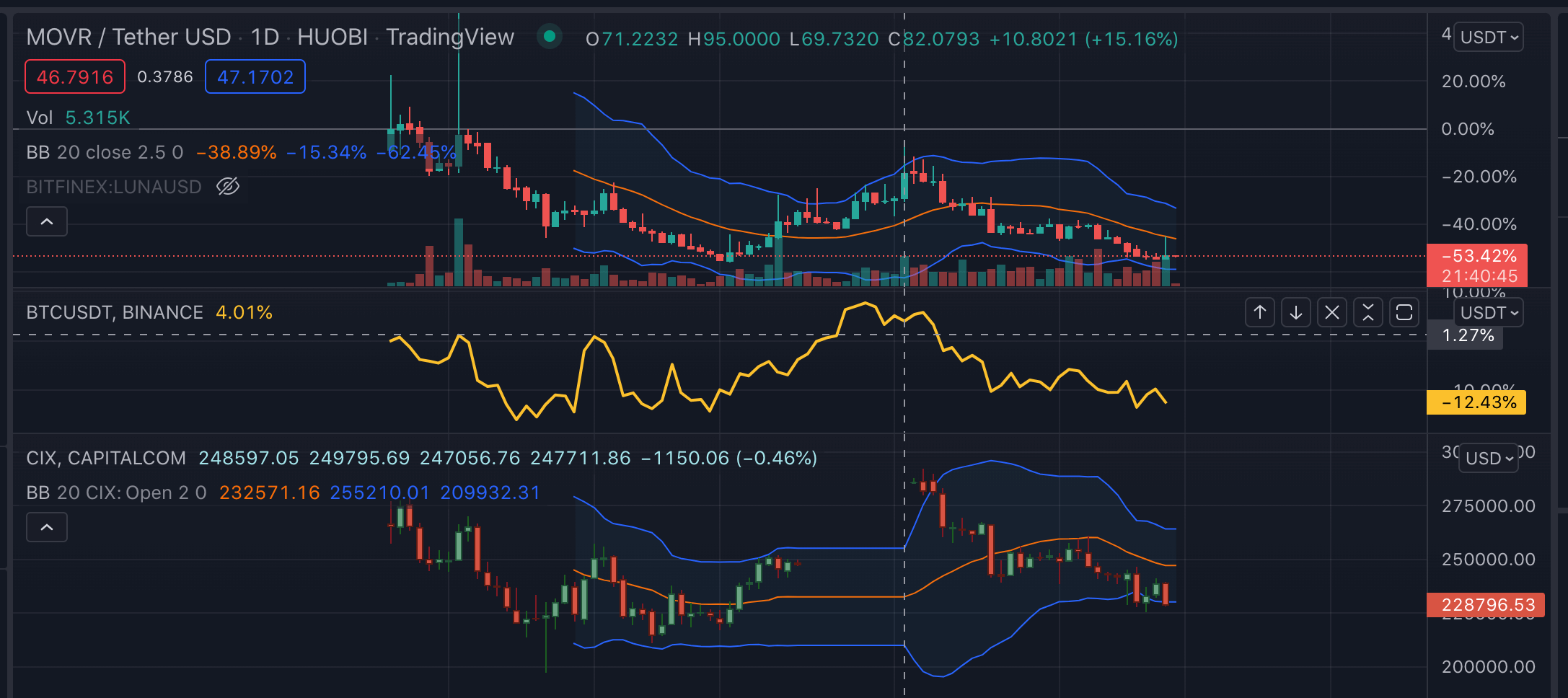 Because of this effect, Moonriver can offer crypto traders a chance to exploit market inefficiencies and profit from the price movements of MOVR.
How to stake MOVR coin
MOVR is an ETH-based staking coin and can be staked using MetaMask. Moonbeam network provides an official tutorial on how to add Moonriver token into MetaMask and how to stake it from there.
MOVR can also be staked via AllNodes staking pools. Here is the full guide for MetaMask and Polkadot Apps wallets.
If you do not want to go through the hassle of setting up the tech, you can cold-stake MOVR from Binance - click here and look up "MOVR".
Where to buy Moonriver - with or without KYC
Binance MOVR/BUSD (requires KYC, has country restrictions)

If you are legally allowed to trade and stake on binance.com, then this will be your first choice to buy MOVR crypto. Binance is the biggest market for MOVR and offers cold staking of MOVR right from the Binance platform.

At the time of writing the APY for MOVR staking on Binance is 22%. (Staking yields fluctuate - click the link below to verify current staking yield.)

Bitforex MOVR/USDT (no KYC, no country restrictions)

Bitforex is the non-KYC crypto exchange that will let you buy, trade and withdraw MOVR without any identification.

Bitforex only has one MOVR pair, and that is MOVR/USDT

If you don't know the Bitforex exchange, read our review or the following TLDR: Bitforex is one of the recommended exchanges on AltcoinTrading.NET, although they reportedly fake volume. For quick non-hassle buying of small alt coins however the platform is ideal.

Pionex MOVR/USDT (light KYC, some restrictions)

Pionex is a new Asian trading platform that offers 16 build in trading bots for arbitrage, DCA and more popular trading methods. They do require some KYC to buy MOVR, but you will get a withdrawal limit of 2000 USD daily for as little as a text message verification and for stating your country of residence.

Pionex only has one MOVR market and that is MOVR/USDT
Where to trade MOVR for scalping and short-term speculation
Binance, Bitforex and Pionex are the best exchange to buy MOVR token. Best exchanges to short-term trade MOVR is either Binance or Huobi - these two exchanges have more liquid markets than Bitforex or Pionex.
So far there are no derivative products of Moonriver tokens available for trading. MOVR spot trading only started in February 2022 on most markets, so it is still too early.
FTX does not list MOVR yet, and it does not list its perpetual swap either.
---