The OMI coin is an NFT gaming cryptocurrency that trades on Asian exchanges that aren't Binance - at least not for now.
Basics of OMI (Ecomi)
The OMI developer is a Singapore company ECOMI that runs VeVe, a marketplace for gaming collectibles. They created the coin on the basis of Ethereal Blockchain with a total supply of 750 billion tokens, some of which have been burned.
OMI used crypto algorithm Ethash, which is the most efficient algos at this time. So, unlike most of DeFi coins, OMI did not launch as an ERC nor BSC token. OMI was based on the GoChain blockchain, which made it a GO20 token. GoChain is backwards-compatible with an older version of Ethereum. OMI holders could still store the token in ETH wallets, although the VeVe wallet was most recommended.
In January 2022, Ecomi migrated from GoChain to Ethereum to get compatibility with the new and soon-to-be-deployed features of Ethereum. Users now need to bridge OMI tokens to use the VeVe wallet.
Should you buy OMI?
AltcoinTrading.NET does not provide financial advice, but consider this: OMI first started trading against USDT only in February 2021. The year was tumultuous for almost all alt coins, and so considering the overall conditions as well as the fact how new OMI is, the coin kept relatively stable.
The OMI coin certainly did not run on hype like the dog tokens, neither crash into goblin town never to recover, as seen with the likes of EOS.
On the other hand, in the 2022 macro conditions and looming crypto winter, there is not much reason to buy any cryptocurrency.
OMI coin staking
The custodial exchange AscendEX runs an OMI staking pool.
FYI, AscendEX was hacked in the past which might put you off. It's still worth to at least subscribe to their newsletter if you are interested in the OMI coin because AscendEX runs regular offers of established altcoin sales at below-the-market prices for their subscribers.
Where to buy OMI coin
At the moment it's only the smaller Asian exchanges where you can buy and trade OMI coins.
Bitforex exchange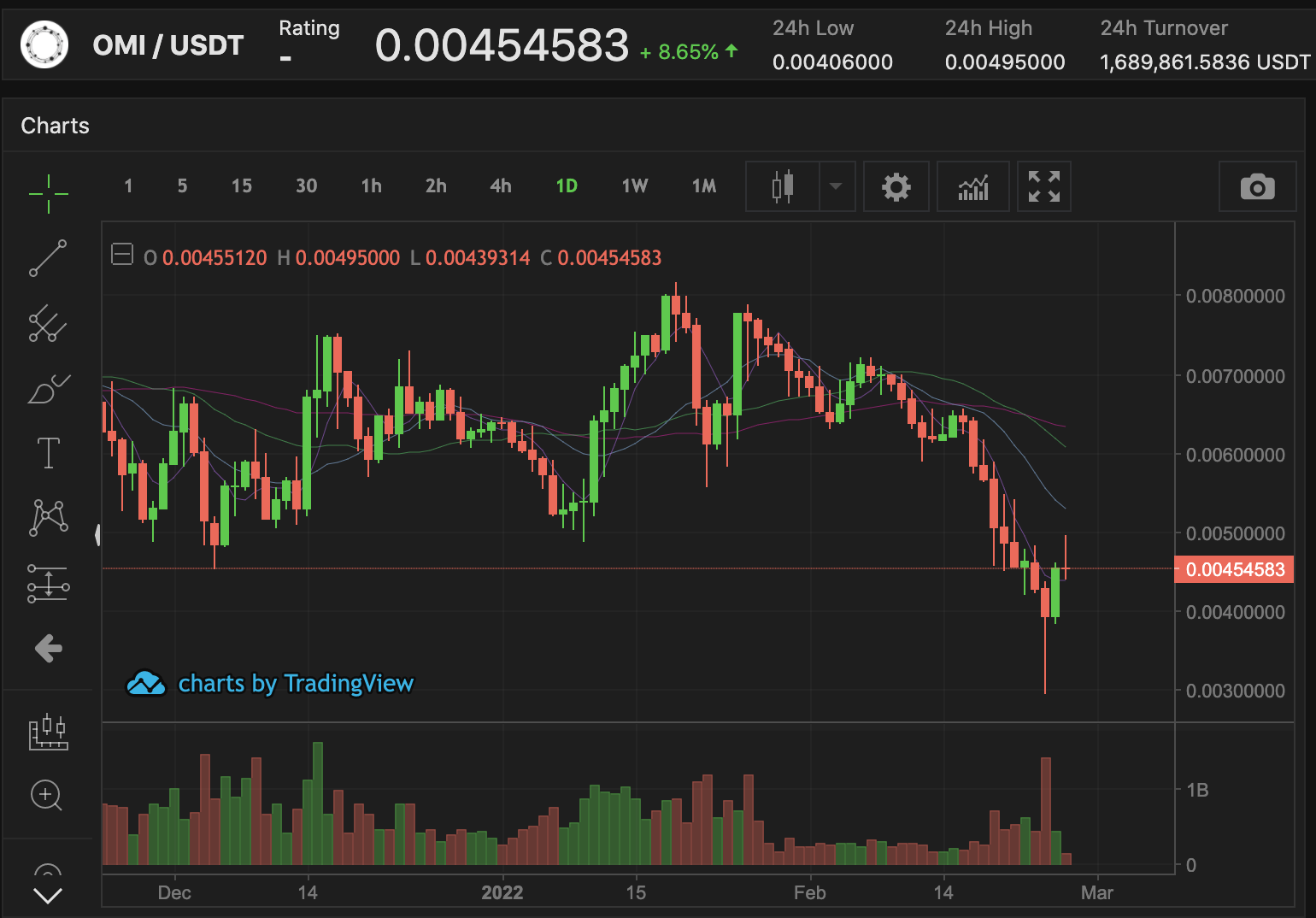 The biggest market is the Asian no-KYC outfit Bitforex, for obvious reasons. Bitforex also runs and NFT marketplace and all the new and small DeFi and NFT projects tend to concentrate there.
OMI charting: OKX & Co, and TradingView
But OMI also traders on OKEx and AscendEX. Thanks to these two markets you can get the full-featured OMI/USDT price chart on TradingView.
If you are trying to find out where to stake OMI, AscendEX runs an OMI staking pool.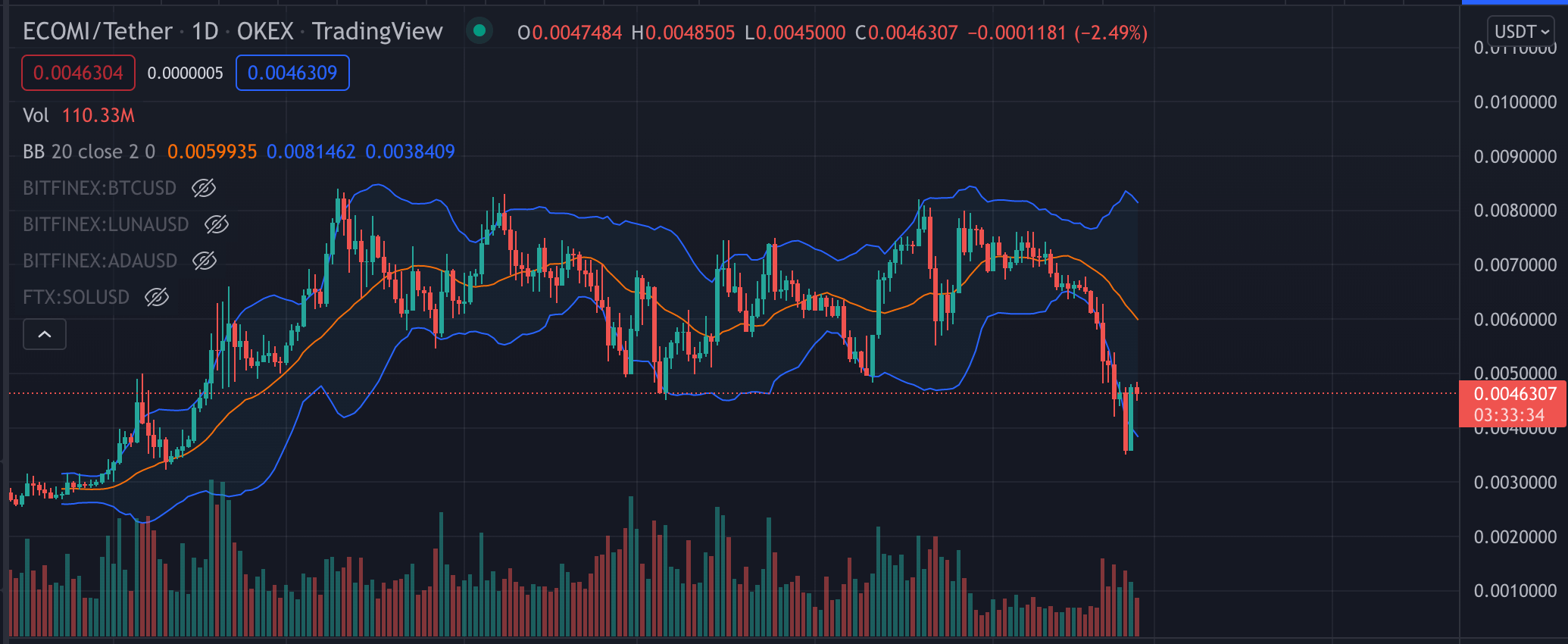 What makes OMI interesting?
Binance listing would shake things up
OMI is not yet listed on Binance, although various outlets have been shouting that listing is "virtually certain" since mid 2021.
Full ecosystem
This is a project going beyond the usual buy OMI cryptocurrency. The team has developed a whole ecosystem buy Ecomi for investors and people who want to earn on mining or stocks of metal resources.
In addition to its own token, OMI can mint NFTs and runs its own marketplace for digital collectibles.
Industry trends suit OMI
Not to mention that NFT gaming is quite a trendy niche to be in, not to mention it's more predictable in terms of making profits trading game assets rather than NFT art.
The NFT gaming space is very much what the company, based in Singapore, focuses on:
NFT games are currently enjoying a lot of interest in the community. NFT games are dApp games that feature NFT collectibles that are game characters.
The owner can develop them which makes them more valuable as an in-game asset for other players. That's where marketplaces for collectibles come in, they connect NFT traders with gamers who are looking for strong characters to get ahead in their game. This is the 101 of how traders earn good money developing valuable NFT characters.
Bottom line
OMI is not a super high-profile NFT currency like Solana, but for a crypto that does not even trade on Binance the price action showed remarkable stability during a pretty bad season. Possibly worth looking into.
Originally published in February 2022, reworked in June 2022.
---