MetalPay (MTL) is a utility token of the US-regulated and insured MTL crypto payment app MetalPay.
The developer organisation of MTL (Metalpay) is Metallicus Inc, a regulated financial business in the US. They created the MetalPay app, which is a smartphone application for small
What is the utility value of MTL (Metalpay)?
Metalpay is meant as a platform token of the MetalPay app.
MetalPay is a user-friendly app that allows people to make small payments or buy crypto. Basically, it is similar to products like Revolut or Paypal, but it is 100% based in crypto.
The project has good partnerships and offers rebates on your travels if you use it for payments. Also, transaction fees are 0.
Price action analysis of MTL coin
MTL is one of the low cap altcoins that trades a bit out of sync when the big cryptocurrencies are over their peak. See below its comparison with BTC and with the CIX100 crypto index of top 100 coins from TradingView.
At the price action of late April 2022, it did the pump along with APE and other new low cap cryptos.
Some short term traders prefer to trade these tail pumps, others like to short them instead of shorting big cryptos.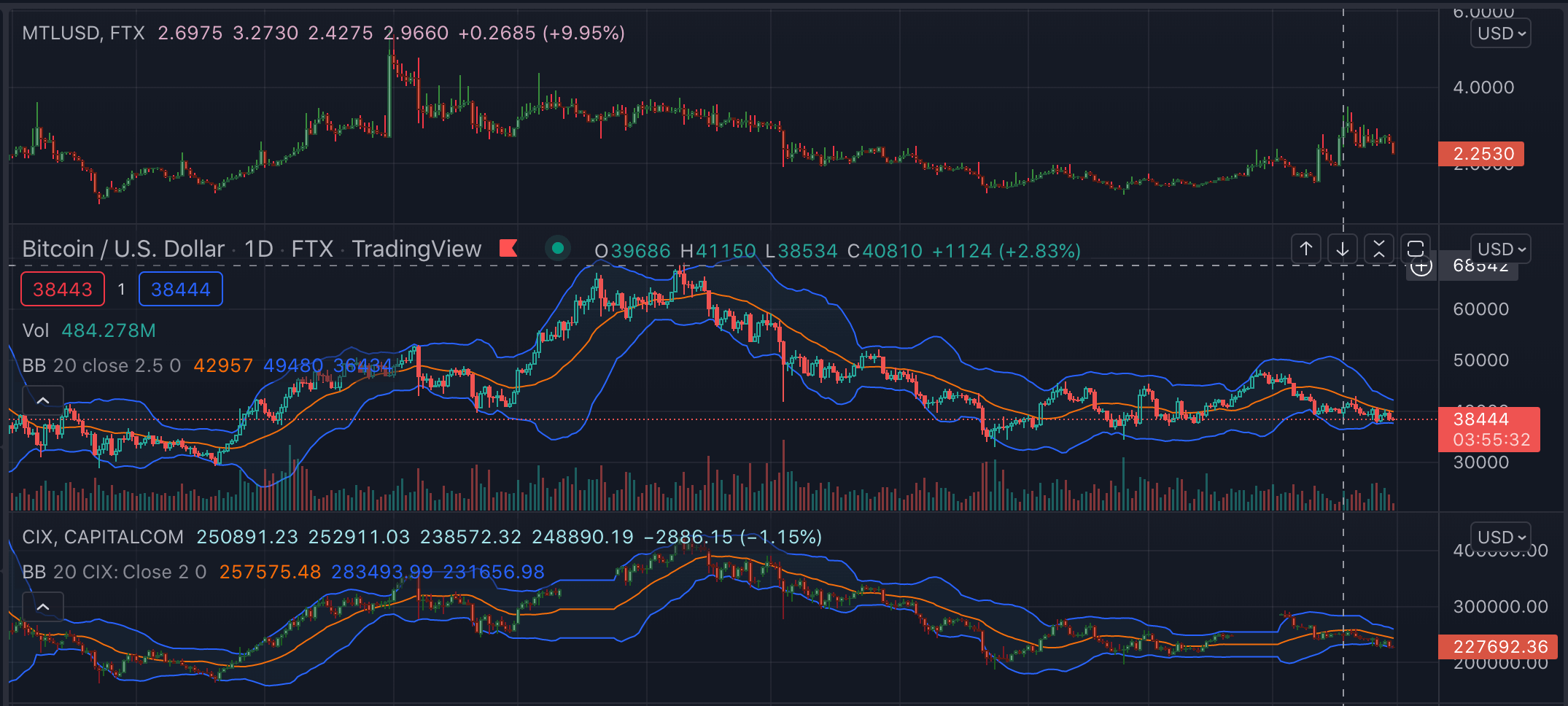 Where to buy Metalpay - with or without KYC
Binance / 10% off atnet10perc (requires KYC, has country restrictions)

If you can use binance.com, then this will be your first choice to buy MTL crypto. Binance is the biggest market for MTL crypto. Remember that Binance has high fees though - they start at 0.1% maker for new users.

Binance only has a spot market MTL/BUSD in a ratio to the Binance stablecoin.

Metal is not a staking coin, so there is no way to earn yield on it directly through Binance staking.

FTX / 5% off altcointrading (light KYC, US not allowed)

If you plan to speculate on MTL on spot, then choose FTX as they have the cheapest fees (0.02% maker for new users) and solid trading interface. FTX is the second largest exchange that trades Metal crypto.

If you don't know the FTX International exchange, read our review or the following TLDR: FTX is the top recommended exchanges on AltcoinTrading.NET. Their products and fees are ideal for active trading, they offer some staking and lending and they (get this!) actually have customer support.

Pionex / code lB9PYjKO (light KYC, some restrictions)

Pionex is a new Asian trading platform that offers 16 build in trading bots for trading methods popular among crypto traders (grid trading for one).

Pionex only has one MTL market and that is MTL/USDT, Metal is paired with Tether stablecoin.

Pionex does require KYC to let you buy or trade MTL, but you will get a withdrawal limit of 2000 USD daily for as little as a text message verification and for stating your country of residence.
Where to trade MTL for scalping and short-term speculation
Binance, Bitforex and Pionex are the best exchange to buy MTL token. Best exchanges to short-term trade MTL is FTX. FTX has plenty liquidity and offers both spot and perp of MTL crypto.
Fees are super low: For a user who only just signed up the fees are 0.02% or 0.07% maker and taker.
FTX had MTL token in its top volume markets just recently.
---